Note: This post contains affiliate links. Simply put, if you click on a product and make a purchase, we may make a small commission. This is at no extra cost to you. For more information, please see our disclaimer and privacy policy.
The Ultimate Stone Planter Guide [+ 25 of Our Top Picks]
If you want to add a statement piece to your landscaping, consider the benefits of a natural stone planter. Its contrasting textures and colors add interest, while still blending with the environment.
Stone planters are a great option for the garden because they last long and add a classic feel. But a stone planter can also be very heavy and require a team to put into place. Not surprising, stone planters are also quite expensive.
Stone has always been an attractive material in gardening due to its durability, but over time, weather has an affect on natural stone.
However, a weathered stone planter with a few chips and scratches is often sought after for luxury landscapes. This makes antique ones pricey since they can be worth so much more than their modern counterparts. If you're looking to get something that will last but don't want the price tag of an authentic one, then it's easy enough to find them made from alternative materials instead!
Advances in materials have led manufacturers of imitation stone planters to create more durable products that will stand up against all sorts of environmental conditions without fail. These new designs look so much like real stones that only experts could tell them apart at first glance – perfect if you're looking for something different than anything else on offer today!
To help narrow down what perfect stone planter is right for you, read on below for our ultimate guide and 25 of our favorite picks. You can use the handy Table of Contents below to jump between sections or just read it straight through. We promise our guide is chock full of helpful information and knowledge!
The Rough-Hewn Allure of a Natural Stone Planter
A stone planter is a rock that has already lasted hundreds – maybe thousands of years. You know right away how durable this garden decor will be! For ages, natural stone has been used for everything from building materials to decorations and sculptures!
Natural rock is known by its different geological types, including granite, limestone, and marble. Look for a stone planter made by the natural rock formations in your region.
The weight of a stone planter makes it well suited to outdoors places like your entryway, patio, or garden. But a stone planter is not a good idea for balconies or rooftops.
Thieves will go to any length, but they'll be hard pressed to lift a natural stone planter! However, the same goes for you. Moving a natural stone planter will not be an easy chore.
Because they are so heavy, they make good outdoor planters for trees and shrubs. The weight provides a ballast against heavy winds. Stone is naturally porous so frequent watering will be necessary.
This Instagram post (see below) by Chicago-based Greenhaven Landscapes accurately represents the weightiness of a natural stone planter. Clearly, it takes a team!
Types of Natural Stone
Granite
Granite is a beautiful, but hard stone that can be found in many places around the world. Granite has been used for centuries as an attractive and durable building material because of its strength and beauty.
For many years, people have called granite the "workhorse of building." This type of stone has been used to build everything from roads and houses to sculptures. It is composed primarily of quartz while also containing such minerals as mica and feldspar.
Granite is a tough material that does not break easily when struck by heavy objects or high temperatures; it can even be cut with regular tools without breaking up into smaller pieces!
Granite's durability can provide you with long-lasting stone planters. One of the reasons why granite remains strong and sturdy over time, even after light damage, is because it's not made from synthetic materials like composite substances which easily wear down or scratch when used.
UV damage isn't obvious with a granite stone planter because of the natural variation of colors and shades within the stone.
If you want the real deal granite planter, look for stone companies in your area that deal in reclaimed granite, such as Olde New England. See some of the ideas on their Pinterest Board.
Olde New England, located in Massachusetts, has an earth and design-friendly philosophy.
Reclaimed granite is a fantastic option for those interested in creating an environmentally friendly design, according to the company. It's local, it has historical significance that adds value to the home or business and what's more, its use saves energy which reduces landfill space!
Limestone
Limestone is a sedimentary rock that was formed from small particles of rocks or stones. Over the millennia, these small particles were compacted by pressures.
Limestone is an important material in the building industry as its use can be reduced to create lighter, more durable buildings that are less expensive than traditional concrete or brick structures. Limestone has been used for centuries to build everything from churches to bridges because it's so durable!
Most of the limestone planters you will find on the market are manufactured with other composite materials and resin or fiberglass.
Most of the limestone planters you will find on the market are manufactured with other composite materials and resin or fiberglass.
To find out more about authentic limestone planters, contact a company like the New England Garden Company. Their showroom is worth a stop on your travels through Massachusetts. It's a gallery of history and beauty.
New England Garden Company has been a vanguard in the world of garden antiques since they were founded back in 1988. They offer rare and authentic items sourced from their vast network, as well as handcrafted reproductions for those who just can't wait to add that extra dose of charm into their gardens!
Their 6,000 square foot showroom is home to some truly one-of-a-kind treasures with an outdoor display area including more than 100 different types of decorative elements like topiaries or water features – there's sure to be something for everyone here!
Marble
The unique, smooth texture of marble is due to a metamorphic process that takes place over millions of years. This alteration can be traced back to limestone, which calcite crystals grow in the presence of heat and pressure from magma or tectonic plates with continued exposure.
Marble has been found all around the world but Italy and Greece are most famous for their deposits because of the color purity within a given sample.
Marble has been used for centuries to decorate buildings and make statues, furniture, flooring etc., because it's easily carved into intricate designs like classical patterns or realistic faces of animals and humans.
A marble planter is the perfect addition to any place you're looking for a classy, yet natural touch. Marble has long been known as an incredibly durable material and these pots have no problem withstanding being exposed to water or dirt!
Marble is often used by designers looking for materials that represent classiness and prestige due its natural beauty.
Related: Everything You Need to Know About Choosing and Caring for a Ceramic Planter
2 Elegant Marble Planters with Old World Charm
The marble planters pictured above are just two of the products featured by Stone Spectrum in Arcadia, Indiana.
Stone Spectrum is a stone supplier offering products ranging from planters to fountains and everything in between!
This beautiful planter is made from high quality white marble. Every detail has been carefully carved to give this piece an elegant look and it stands at 20″ tall with a diameter of 18″. The interior dimension is 13″ in diameter and 7″ deep.
The second stunning urn also has an elegant marble finish with beautiful leaves around the rim and stands nearly 2 feet tall.
Related: Ultimate Modern Planter Guide: Top 33 Picks for the Home
6 Beautiful Cast Stone Planters in Natural, Sophisticated Styles
Cast stone is a type of concrete that can be manipulated to look like different types of natural cut stones. Mixing quartz, granite and other materials with the cast stone will create an authentic looking stone planter.
Cast Stone is a type of man made stone that has been used for centuries. The earliest known use dates back to 1138, when it was first seen at Carcassonne in France and gained popularity more than 200 years ago in London, according to the experts at Sun Precast Company in Pennsylvania.
Cast stone is a durable, often cost-effective alternative to natural stones. It can be tough, beautiful and versatile all in one!
Cast stone is extremely sturdy material with a classic look that can withstand tough weather conditions such as freezing temperatures without cracking or chipping like other materials do.
Cast stone planters come in all shapes and sizes so no matter what design aesthetic speaks to you there's sure to be one out there just waiting for purchase at your local gardening center or online order today!
These six cast stone planters will help you find something to suit your needs!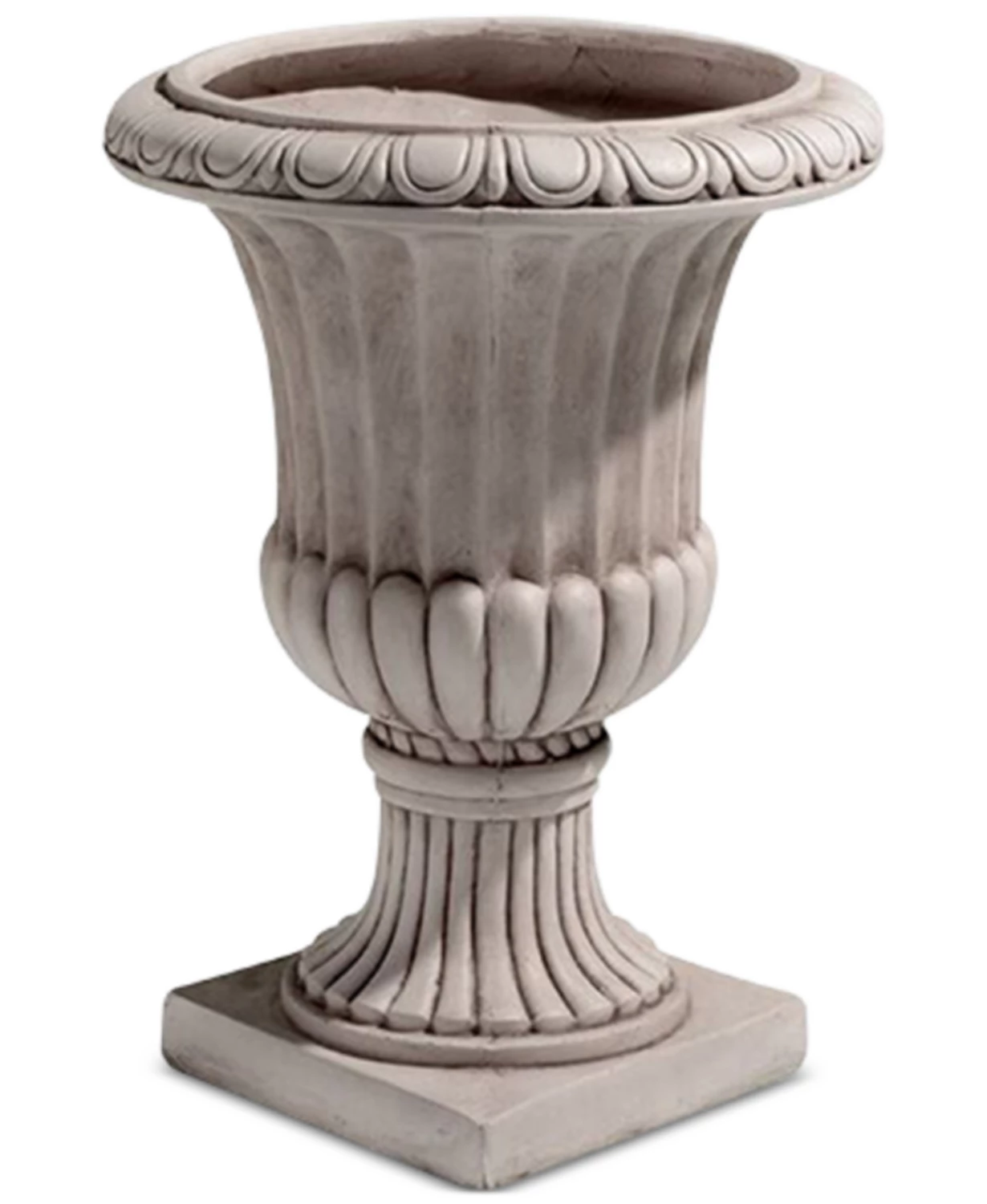 Gather your favorite flowers and grow them in the Orren Italian 26″ Urn Planter. The simple, yet elegant design is a must-have for any outdoor space looking to create an air of sophistication with the touch of old world charm!
The Christopher Knight modern stone planter offers a rugged, stone-like design that also has incredible durability and is resistant to outdoor elements.
This large cast concrete planter features a clean square shape giving your backyard space the perfect accent with its natural look – seamlessly blending into any décor you choose for it. Dimensions: 21.50" W x 21.50" D x 18.75" H
Solid Works Stoneworks in Athens, Georgia, is the epitome of hard work and dedication. They use only high quality raw materials to make their "Made in the USA" cast stone products that will last a lifetime under any condition you put it through. With proven techniques combined with an exclusive hardener from Solid Works themselves, they can ensure your piece will be ready for anything!
They offer many different pieces, such as Birdbaths, Fountains, Statues, and Benches among other things that will help transform your yard into something you can be proud of!
This vintage style cast stone planter is perfect for anyone looking to bring a little timeless character into their garden. The rough texture and cracks will make it look like you pulled this right out of your grandmother's estate, but don't worry: Brand-new integrity ensures it won't just crumble from age.
Designer Stone has been manufacturing high-quality cast stone art for 20 years. All their products are proudly made in the USA and shipped by them direct from California where they make each piece with a specialized mix of cement, aggregate, and strengthening agents to create a durable product that is also colorfast thanks to being mixed into it before casting.
Each item receives an industrial strength sealant coating making it blemish resistant while repelling water as well!
Here's another modern stone planter from Christopher Knight. The tall tapered planters have a stone-like appearance.
This set comes with one medium planter that measures to be 13.00" L x 13.00" W x 28.50" H and one small planter that measures to be 13.00" L x 13.00" W x 24.75" H.
The Umbria 12″ Round planter has a classic design that will work well with any style. It is made of lightweight, eco-friendly materials with no concrete or metal to weigh you down and lower your budget! The removable drainage plug means it's always easy for the plant inside this pot to get the right amount of water, even when it rains!
Related: Colonial Planters Fitting for Period Style and Today's Design Trends
Discover the Latest in Stone Planter Trends with These 17 Attractive Pots
You can get the look and feel of a stone planter in more durable, weather-resistant materials. With advances in materials and technology, an imitation stone planter may be your preference.
Stone planters are usually a pretty big investment and installation can be an expensive process too, depending on the size of the planter! With advances in technology though, you now have the option of getting your stone look without spending all those dollars and still get a durable, weather-resistant product.
Take advantage of new materials and manufacturing processes, which mimic the natural texture so well that it'll look just as good.
Our Top Pick for a Modern Stone Planter Made in America
Let's start in the middle of the country in Kansas City, Kansas, with an incredible company – Polystone Planters.
No matter where you live in the USA, they have a stone planter for you. Polystone planters come in nine colors and six shapes. On top of that, you can even customize your order!
Polystone Planters are a great choice for any outdoor space. They will survive in salty air, blazing sun and frosty mountains with little care required from you. They come with an impressive 10-year warranty that tells us they are serious about standing behind their product!
The high-density insulated core of these pots saves your plants from temperature fluctuations and conserves water, while also protecting them against UV rays. Stands up to freeze-thaw cycles, mildew, salt spray, and whatever else the elements throw at it!
Every planter has drainage holes with exit channels to ensure that water does not stagnate in the bottom.
Just to give you a sample, here are two of our favorites. The stone planter box in light gray is from the Monterrey Collection. The tall stone planter box in chocolate brown is from the Cozumel Collection.
Find more stone planters perfect for your design style in their four other collections:
A Large Stone Planter for Every Style
This elegant set of planters was designed with both modern and transitional styles in mind. They are crafted out of durable fiberglass reinforced resin to provide a long-lasting option for your home décor, whether inside or outside the house!
The stone-like appearance of this traditional style planter is ideal for use inside and outside, making it a functional addition to any garden. It features a proprietary blend that makes the exterior appear like manmade stone with an amazingly lightweight quality.
Constructed by skilled artisans in America, you can feel confident knowing your purchase will stand up against daily wear. With commercial grade materials as well as lifetime guarantees and warranties included within the price point, there's no reason not to add one – or several!
This stone planter comes in 5 colors and 4 sizes.
The Arco Design stone planter box is made from eco-friendly composite material. This durable and weatherproof pot will last for a long time, while also being lightweight enough to move around with ease! It is available in five colors.
Shallow Stone Planter in a Variety of Designs
This brush moss colored hexagonal shallow stone planter is handmade in the USA by Solid Stone Stoneworks.
Solid Stone Stoneworks products won't crumble under pressure. They employ proprietary casting techniques that result in products of the highly durable quality, all cast from 100% natural stone and fortified with a special hardening agent, which make them 6000psi rated (the standard for driveways is 3000psi).
Do you want to make a unique statement? The lightweight, versatile planter is not just for plants. Fill it up and create an instant centerpiece for your patio table!
As durable as it is sleek, this planter's thick resin construction and stone dust & silicon content make for a long-lasting addition to your garden. UV treatment ensures its high quality finish will last years of use in all climates!
Bring a sense of nature into your home with these stone container planters. The natural colors and textures will give any room an earthy feel, adding character to the design décor. Imagine all that you could do in just one pot!
Get Creative with a Stone Planter Bowl
This planter is made of a durable polyresin and sealed with UV-resistant paint. The planter can be drilled to allow the water from your plant's roots to drain out, and it will not crack in cold temperatures or over time!
In windy environments, add sand or gravel between the walls to decrease any risk of it blowing over.
The chocolate-washed stone planter bowl is simply elegant. You can compensate for the lack of drainage holes by adding a rock layer to the bottom. The fiberstone material is made by combining fiberglass with cement, sand, and finely ground stone.
A White Stone Planter in 3 Unique Styles
White stone planters are an excellent way to add a little color and interest to your home and garden. White is always going to complement most other colors nicely because of its neutral tone.
Additionally the light color reflects sunlight keeping it from overheating in summer months so your plants will stay cooler.
The cupid stone planter from Amedeo Design is a hand-made work of art made in the USA by local craftsmen.
This attractive planter is made from a proprietary blend of stone and high-performance resin that makes it remarkably light in weight yet durable enough for years outside!
Amedeo Design, which has a permanent showroom in the AmericasMart in Atlanta, Georgia, makes other decorative stone items for the garden, such as benches, fountains, and statuary.
We also love their extra large fluted stone bowl planter. As with all of their products, the planter is extremely weather-resistant, lightweight, and durable. It's light gray, rather than white, and also comes in four other colors.
As you read above in the section about Modern Stone Planters, the Kansas City-based Polystone Company has six collection styles, each with a white planter in different shapes.
As you read in the section above about Modern Stone Planters, the Kansas City-based Polystone Company has six collection styles, each with a white planter in different shapes.
For a traditional outdoor planter with a modern look, the extra large Baja planter is ideal for front entrances, patios, courtyards, and gardens.
Polystone planters never fade, crack or chip. They're scientifically made to withstand a variety of weather conditions and can stand up to UV light, freeze-thaw cycles as well as salt spray without any problems whatsoever.
A Stone Planter Head: 4 Choices Ranging from Traditional to Unusual
We thought we would end our guide with a fun section. Who knew that a stone planter head was so popular! They make a unique focal point for your garden or home interior. They are a great way to show off your personality or complement your design style.
For a conventional look, go with a traditional stone planter head in the Greek style or the iconic Easter Island statue head.
For a whimsical or mystic aesthetic, here are two trending styles:
Final Thoughts on a Stone Planter
Stone planters come in many shapes and sizes, and they can be made out of a number of different materials. Whether you want to add some natural beauty or create an oasis for your plants, stone planters – real or faux – are the perfect choice.
What's your favorite type of garden decor for the front porch or backyard to beautify your outdoor living space?