Note: This post contains affiliate links. Simply put, if you click on a product and make a purchase, we may make a small commission. This is at no extra cost to you. For more information, please see our disclaimer and privacy policy.
Everything's coming up roses in this ultimate rose wreath guide
A rose by any other name is still a rose, but what about a rose wreath?
Rose wreaths are a lovely decoration for the home during the holiday seasons and beyond. They're perfect for adding an elegant touch to any room in your house, and they can also be hung on doors or window sills!
These delicate beauties have been around as long as humans have, and they've come to symbolize many things: love, purity, innocence … the list goes on.
Roses are a gift from Mother Nature herself that she offers us each year with her ultimate generosity.
So let's dive into roses and rose wreaths and find the best one to buy for your front door!
In this post, everything's coming up roses!
What do roses symbolize?
Red rose – romance, love, beauty, and passion
Yellow rose – happiness, friendship, and gratitude
Pink rose – grace, elegance, loving friendship, and can also be a symbol of romance
White rose – innocence, purity, simplicity, sincerity, kindness, and hope.
Orange rose – passion, desire, gratitude, and fascination
Green rose – life, growth, and abundance
Blue rose – hope and joy, and often signify the beginning of a new era
Lavender rose – love at first sight, enchantment, splendor, and wonder
Peach rose – friendship, modesty, innocence, and thankfulness
Black rose – the end of something meaningful (divorce, relationship) but also rebirth.
Rose gardens to visit
From coast to coast, roses are featured in gardens open to the public, often maintained by small, but dedicated armies of volunteers. We can do our part in helping out by visiting these gardens as a small demonstration of their importance.
No matter where you visit or live, there's likely to be a rose garden close by. Here's a sampling of choices across the U.S.
Discover more about America's Best Rose Gardens, an article by Explore with Tess, curated travel for the curious explorer!
Photo inspiration for your rose wreath!
How long do roses last?
Roses should last at least a week, but this can vary depending on how you take care of them.
If the rose is in water it will decay faster than if it's not watered and kept out of direct sunlight.
The more you handle your roses by touching their flowers or petals they'll also have less time to bloom before wilting. There are different varieties of roses that will last longer than others  ̶  for example, long-stemmed cut flowers typically don't last as long because they wilt faster when left unattended!
What are wreaths a symbol of?
A wreath is a symbol of celebration, unity, and life.
A circle represents the cycle of life with evergreens in the center to represent new growth. Wreaths have been used as adornments for centuries because they are warmly welcoming and make people happy!
Wreaths come from nature, so if you want something simple yet elegant to decorate your home during Christmas time then try a rose wreath!
Roses are usually seen as symbols of love, purity, or innocence, but there are many other interpretations too which include happiness and peace ̶ making them even more perfect for this season! There are several different types of roses out there like tea roses, Damask roses or Hybrid Perpetuals ̶ all beautiful!
Rose wreaths come in a variety of colors and styles, so you can find one that suits your home perfectly. They also last for up to a year or longer!
Artificial Rose Wreaths
With dried floral wreaths or artificial rose wreaths, you don't have to worry about wilting flowers! There are several advantages of artificial wreaths.
First, they don't require any maintenance. All you need to do is place the wreath on your front door and enjoy!
Second, many of them are weatherproof as long as you hang them on a door out of direct sunlight and the elements.
Here are some of the best artificial rose wreaths we have found.
If you love gorgeous and impactful floral arrangements, you'll appreciate this pink rose wreath. It's striking, making it a great conversation starter for any visitor that will come to your home.
The pink, white, and purple complementary colors against the lush green leaves will liven up your front door. It's a unique take on springtime decorations.
The wreath is bright and looks real because of the green bamboo leaves on the wreath. The bamboo leaves symbolize durability, strength, and flexibility.
In some Asian cultures, bamboos are a sign of good health and are usually given as a housewarming gift. So not only can you buy this beautiful wreath for yourself but you can give it as a housewarming gift to someone you love.
You'll also love the berries on this unique pink rose wreath. Berries represent hope, optimism, and confidence in the future- making this wreath a must-have for springtime.
Related: 18 breathtaking peony wreath ideas for year around
Buyers are raving about Susan Fischer's ribbon wreaths in her Etsy store. She gave this rose wreath a Victorian look with pink and mauve tones and a vintage style ribbon. It will need a little fluffing when you take it out of the box.
This white rose wreath is sure to grab the attention of anyone who comes to your home. It says you're warm and hospitable before you even say a word.
The small daisies are a great contrast to the big white roses and green eucalyptus leaves. The wooden "Welcome sweet home" sign is a superb way of making your home cozy and inviting.
You can leave the sign on the wreath or use it as part of the décor inside your home.
Related: Join the tulip wreath mania with 10 spring-worthy options
This refreshing white wreath is natural-looking and a great addition to your front door. White brings a feeling of positivity, shows you're clean, cool, simple, and peace-loving.
It also brightens up your home and will bring a smile to anyone who looks at it. It will add some glam to your modern-style home décor.
The wreath is heart-shaped which makes it ideal to use during Valentine's Day and throughout February when we celebrate love. You can then leave it on as it works for springtime well. Because it's a white wreath though, you can leave it all year-round on your front door.
If you're having a white Christmas, this white wreath can make a beautiful addition to your décor. So, it works for different times and seasons making it a great buy!
Looking for a great anniversary gift for a friend or close family member? White roses represent eternity, everlasting love, and a positive new beginning making this wreath with its heart shape a great anniversary gift.
Related: Discover a wheat wreath in 14 fresh-looking styles for all seasons
This gorgeous white rose wreath is a mix of sophistication and class while looking very natural. The eucalyptus leaves bring healing, rejuvenation, connection, and strength to the wreath and your home.
On the other hand, the white lilies and daisies add sweetness, joy, hope, and fresh new life to this wreath making it ideal for springtime or even all year round.
The wreath works well as an addition to your farmhouse décor and can also be used for special events like parties, a wedding, and Christmas.
You can add any color ribbon to the wreath to make it pop more as white is a great neutral background color that allows you to get creative and make the wreath new and interesting each year or season. I love these Christmas ribbons, Summer ribbons, Thanksgiving and fall wreaths which would be a perfect accessory to this wreath.
You'll appreciate the beautiful, high-quality box the wreath comes in as it can be stored easily when not in use. The box also makes it ideal to give as a gift for Mother's Day, housewarming, or birthday gift.
Related: The Mini Wreath: 19 Wondrous Styles for Your Home Decor
When you buy a wreath from Nearly Natural you know it's a high-quality product made by experienced horticulturists who make sure artificial wreaths look real. This white wreath is a great example of how this brand is true to its values and mission.
The white rose wreath is a special way to say "hello" to the Christmas holidays. With the pine cones, red berries, and red hydrangeas to embody the love, harmony, and peace of the Christmas season, this wreath is a fabulous addition to your holiday décor.
Beyond Christmas, you can use this wreath throughout winter and even for Valentine's Day.
Another great buy from Nearly Natural is this gorgeous peach and pink rose wreath. The peach roses pop against the natural-looking lavish green leaves.
Peaches are a symbol of warmth, positivity, acceptance, sincerity, and appreciation and a great way to say "welcome home"!
Roses are associated with love and what better way to show your love for your country than this Patriotic rose wreath. This wreath will make your home the talk of the neighborhood on July 4th.
The blue, white, and red roses make this wreath full and dynamic. If you'd like to move the stars around on the wreath, you can do so. It's a strong and durable wreath.
Beyond Independence Day, you can adorn your front door with this wreath on Memorial Day and Veterans' Day.
Heart-shaped rose wreaths
Nothing says love, romance, and Valentine's Day better than this heart-shaped rose wreath that comes in pink, ivory, and white! It's vibrant and just gorgeous to look at. The pearls inside the wreath bring out its elegance.
While the wreath is strong it's quite light and needs to be handled with care. It's more ideal for a covered front door setting.
Besides that, you can welcome the day of love one-of-a-kind stylish rose wreath.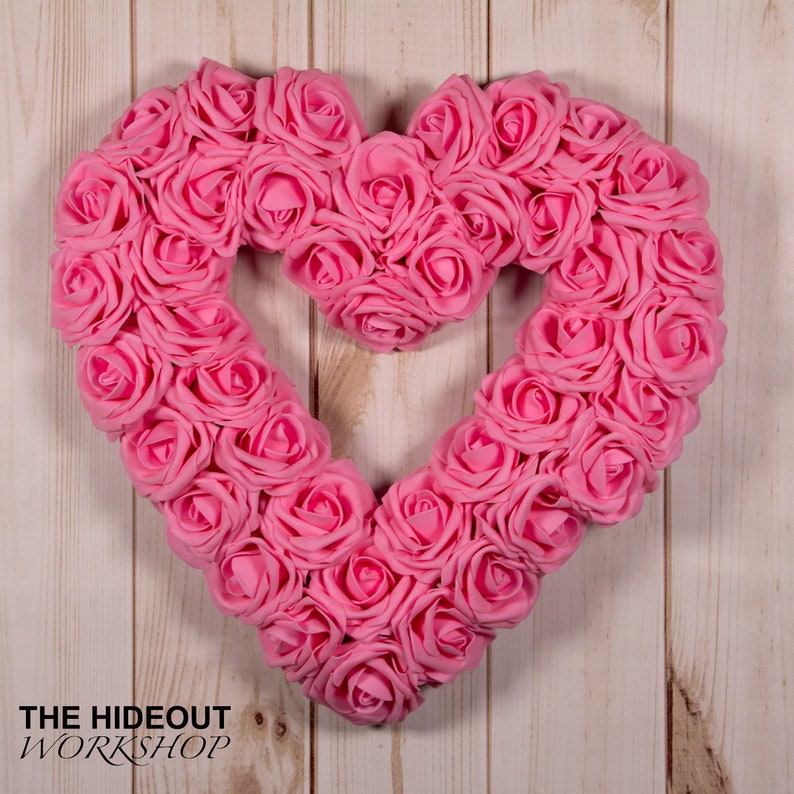 The Hideout Workshop in Kingston, New York, features owner Melissa's handmade wreaths in country and contemporary styles. Her quality wreaths have earned her 100% 5-star reviews on Etsy. 
We think you'll agree with her customers that her wreath creations are carefully made with quality materials. The pink heart-shaped rose wreath is no exception. The wreath is about 16 to 17 inches across. 
Melissa is open for custom orders as well.
Hydrangea and rose wreaths
If you love white wreaths but would like to add a burst of color to welcome spring or summer, then this is the wreath for you. The pink hydrangea brings this full wreath to life.
The vibrant white rose wreath grabs the attention of anyone passing by your home and will get you some great compliments from your neighbors. It makes your home friendly and inviting.
Pink hydrangeas signify heartfelt emotions like love, sincerity, and romance which makes this a great Valentine's Day, birthday, or Mother's Day gift. No need to get extra packaging as the wreath comes in a beautiful box already.
If you use the wreath during spring and summer, then you can use the elegant storage box to store the wreath in fall or winter.
The high-quality wreath is strong and can withstand different types of extreme weather when placed outside your front door. Ideally though with wreaths, it's safer and better to place them in a covered outdoor setting.
Put your home on display with this beautiful wreath! Featuring layers of leaves dotted by bold blooms, it's assembled by hand to create a design you'll love for life. For use indoors or out where there are no harsh winds that can damage delicate materials.
This beautiful wreath is the perfect way to add color and charm into your home. You can use it indoors or outdoors on any covered area, so you'll never want for Springtime all year long!
Quotes about roses
One of the tragic things I know about human nature is that all of us tend to put off living. We are all dreaming of some magical rose garden over the horizon – instead of enjoying the roses that are blooming outside our windows today.

Dale Carnegie
There is simply the rose; it is perfect in every moment of its existence.

Ralph Waldo Emerson
But he that dares not grasp the thorn. Should never crave the rose.

Anne Bronte
We can complain because rose bushes have thorns, or rejoice because thorn bushes have roses.

Abraham Lincoln
A single flow'r he sent me, since we met.
All tenderly his messenger he chose;
Deep-hearted, pure, with scented dew still wet — One perfect rose.

Dorothy Parker
Final thoughts on a rose wreath
Roses are special and beautiful flowers that come in different sizes and colors. This makes them ideal for different holidays, seasons, special occasions, and as a gift.
Rose wreaths are stunning and a great way to invite guests into your home. Combining rose wreaths with other flowers like daisies and hydrangeas makes them fuller, more vibrant, and an attention grabber!
Share your favorite rose with us in the comments below!