Note: This post contains affiliate links. Simply put, if you click on a product and make a purchase, we may make a small commission. This is at no extra cost to you. For more information, please see our disclaimer and privacy policy.
Outdoor Pineapple Decor Adds a Welcoming Glow to Home & Garden
Early Americans' obsession with the pineapple started a design trend that just keeps on growing. Over two centuries later, we can't get enough of this symbol of hospitality in our outdoor pineapple decor!
As researchers and curators of front door decor, we're never more delighted than when searching for the best outdoor home products. Pineapples may be among our favorite motifs.
We've rounded up our favorites along with our Top Picks in several categories for outdoor pineapple decor.
Our 6 Favorite Picks for Outdoor Pineapple Decor
5 Reasons to Use Outdoor Pineapple Decor
#1 Outdoor pineapple decor is everywhere
Pineapples are hot right now. From interiors to exteriors, pineapples are everywhere!
Although pineapples have technically been "in style" for hundreds of years, never before have we seen such a variety of products that literally fit every design fancy!
#2 Pineapples have history and meaning
When we use pineapples in our outdoor or indoor decor, we're using a symbol with hundreds of years of history. Early explorers in the 15th century came across the fruit in their journeys to South America and the West Indies.
A few centuries later, European royalty popularized the treasured fruit and demanded that it be cultivated in their greenhouses. They were mesmerized to say the least.
In America, early day colonists imported pineapple from the Carribean Islands and displayed the pineapple in lavish centerpieces at dinner parties, which was the start of the fruit's famous symbolism for hospitality and friendliness.
If you were a colonist who couldn't afford a pineapple, no worries – you could rent one!
#3 Outdoor pineapple decor comes in a variety of products
Manufacturers have made it so easy to find just the right pineapple motif for those of us searching for outdoor decor.
You can light up the night with environmentally friendly pineapple solar lanterns or add warmth to your front door with a sophisticated outdoor wall sconce light in pineapple motif.
From pineapple door knockers to tropical garden flags, pineapples cover the range of outdoor decor.
#4 Outdoor pineapple decor comes in a variety of styles too
Along with the wide range of outdoor pineapple decor, comes a variety of styles. From bright tropicals to stylish gold, pineapple decor abounds to please every design personality.
Add a touch of colonial charm to your front door with a personalized plant crock with a welcoming pineapple design.
Looking for bold and colorful? Check out this pineapple front door mat that welcomes your guests with tropical flair.
#5 You can use as many pineapples as you want
The breaks are off when it comes to how many pineapples you can use in your outdoor decor. Design experts agree that it's difficult to overdo the classic pineapple, even if you want to go a little overboard.
Let's explore the many options and types of products to help you get started with your outdoor pineapple decor!
Top Picks for Outdoor Pineapple Decor Lighting
Solar Pineapple Lights
Outdoor Pineapple Lights for the Front Door
Front door lights not only beautify our entryways but they also serve an important security function. Front door lighting deters home invaders.
Hanging porch lights and wall sconces are the two most popular choices in front door lighting. When it comes to classic lighting choices, the understated pineapple motif lighting has a long history. That's probably why choices in this type of lighting style are so plentiful.
After all, what better way to welcome visitors than the universal symbol of hospitality!
For you, this will come down to personal style, but we like to assist in your shopping by showing you a sampling of quality options available in outdoor pineapple lighting for your front door. We've also included a range of price points.
We're also fans of Hinkley outdoor lighting. But before you introduce you to a few of their pineapple outdoor lights, let us introduce you to the company.
If you're a regular reader, you know by now that we value not only quality products but also quality companies. For us that means we look for companies that inspire us. Hinkley Lighting is one such company.
Founded in Ohio, Hinkley Lighting has been a family-operated business for nearly 100 years. They have grown into an international company known for service, style, quality, and technology.
They have a series of pineapple front door lights in a style that reminds us of Old World charm. Hinkley has done a great job with the pineapple outdoor lights so that the variations in design ensure that it will fit almost any house style.
Although all of the Hinkley pineapple lights share a common design, the price points differ according to size and brightness of the light. You can find a Hinkley light from just under $300 to well over $1,000. Below, we show you a sampling of those choices.
Outdoor Pineapple String Lights
String lights are fun and add a sense of warmth to any outdoor setting. But keep in mind that most string lights are of adequate quality but overall these are not expensive products meant to last a long time.
That works fine for me because I like to change out my string lights for seasons and occasions.
The 10 pineapple lights on 8.5 foot white wire come with end-to-end connections, and you can string up to 25 sets together. Listed as indoor or outdoor use. The lights also come with four spare bulbs and two replacement fuses.
The 40 LED Pineapple Fairy String Lights are waterproof and battery operated. They come with a remote controller with eight modes for brightness and flashing. The string reaches 33 feet. Batteries not included.
The Best Pineapple Doormats Around
When it comes to shopping for the best front door mats, we have you covered. We love shopping for doormats and are obsessed with seasonal doormat changes at our own homes. So, any excuse to shop for others, we jump on it.
Our research has also directed us in how to look for the best quality and styles.
Thanks to the popularity of outdoor pineapple decor you have a literal storehouse of choices in picking out a front door mat with a pineapple motif.
We're bringing you a diverse selection of styles, sizes, and materials so that you can choose what works best for your house. Simply click an image below to purchase or to view product specifications.
Standard Size Pineapple Doormats
Extra Large Pineapple Doormats
Pineapple Garden Statues
Garden statuaries can add balance and pull together a look in any garden. A huge variety of garden statues ensure that all of us can find one that fits our style or personality.
You can overdo it, though. Too much of a good thing becomes distracting from the arrangement of plants. Pineapple garden statues are ideal for garden decor because these statuaries tend to be understated. They add a touch of elegance to any garden setting.
Let's discover a few of the best picks out there.
Accent Your Outdoor Pineapple Decor with Throw Pillow Covers
Outdoor pineapple pillows are one of the easiest [and often affordable] ways to enhance your outdoor decor. From stately to blingy to tropical, outdoor throw pillows fit any style and personality.
We've rounded up a collection of not only our favorite picks but also Top Picks according to design style. Most of these will fit in more than one design category, but we'll leave that up to you to decide.

Note: These are pillow covers not filled pillows.
Best Outdoor Pineapple Pillow for Mid Century Modern Style
Best Outdoor Pineapple Pillow for Colonial Homes
Best Outdoor Pineapple Pillow for Coastal Style
Belgala's 20″ x 20″ outdoor pillow cover
Best Outdoor Pineapple Pillow for Cottages and Bungalows
Wozukia Pineapples 18″ x 18″ pillow cover
Best Outdoor Pineapple Pillow for Tropical Styles
18″ x 18″ pillow cover in burlap
Wrapping Up Outdoor Pineapple Decor
We've thoroughly enjoyed going shopping for outdoor pineapple decor. Just say the word "pineapple" and we're there! No matter the time of year, the many looks of pineapple design style puts us in a tropical state of mind.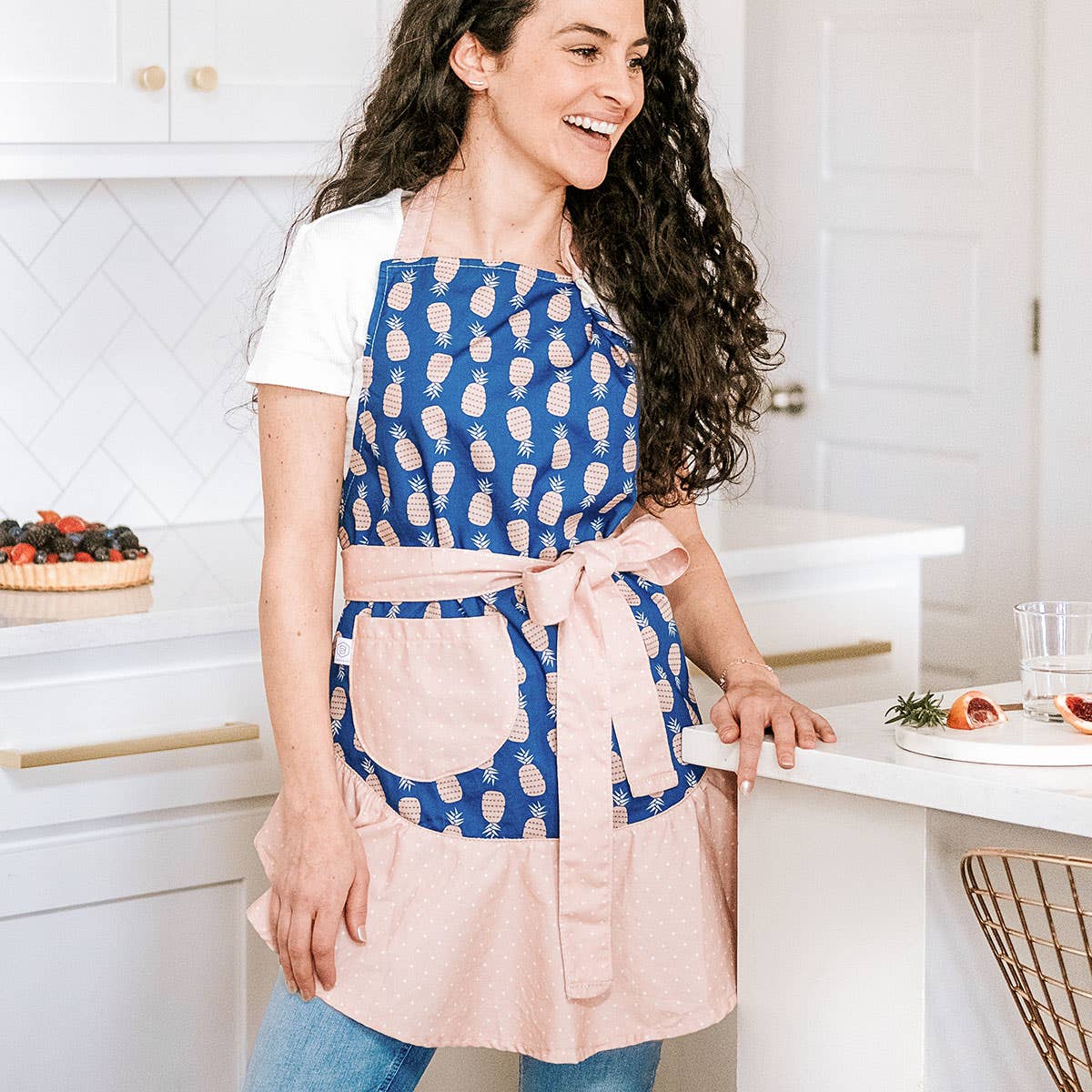 You might also enjoy these articles: