Note: This post contains affiliate links. Simply put, if you click on a product and make a purchase, we may make a small commission. This is at no extra cost to you. For more information, please see our disclaimer and privacy policy.
The Iconic Modern Front Door:
How to Choose the Right One for You
The front door is one of the most iconic features of Modern architectural style. It has many distinguishing characteristics that make it an attractive and popular choice for homeowners looking to increase their curb appeal.
In this article, we will cover what makes a modern front door so appealing, as well as some design tips to help you choose your own unique look!
Features of Modern Home Architecture
Modern home architecture refers to houses built between the 1920s and 1950s.
Modern architecture is often associated with minimalism, which can be seen in the simplicity of its exterior. The modern approach to home designing was intended to reduce costs and promote efficiency through mass production.
In architectural terms, form follows function in modern home design. First and foremost, the houses should be functional and not necessarily artistic. You will not see decorative elements on the home's exterior, such as elaborate trim.
Modern design aimed to be functional for families living on an income that needed to stretch dollars as well as those who had a disposable income because they were wealthy or higher-paid workers at work.
Modern home architecture characteristics include:
Wide, low front doors
Long horizontal lines along with sharp geometric angles.
Rooflines are dramatic in effect with long overhangs.
No garage on the street side of the house
Lots of glass in walls and doors. This is when floor to ceiling glass walls became popular. In addition, good use of sun and shade to maximize comfort.
Glass and steel are common exterior elements, but natural materials, like wood, are also incorporated.
What is the difference between modern and contemporary home styles?
The term "modern" can be misleading when it comes to home architecture and decor.
Modern architecture refers to house styles of the early 20th century, starting in the 1920s and ending around the 1950s. The most well known of those styles is Mid Century Modern.
Arguably, Frank Lloyd Wright started the trend slightly earlier with his home designs, including the Allen-Lambe House in Wichita, Kansas, and the Emil Bach House in Chicago. Both of these houses are examples of Wright's late Prairie style.
Contemporary home architecture refers to whatever is in now, in the moment. For that reason, contemporary home architecture is always changing.
Contemporary style can be a mishmash of different styles as well. For example, traditional takes on a new twist with the contemporary Farmhouse style.
Today's contemporary style includes these features:
Unlike Colonial style, contemporary style is asymmetrical – lots of curves and angles that are used to make the most use of natural surroundings and the sun.
Contemporary homes are designed to be eco-friendly and energy efficient.
High-tech features are predominant.
They pay homage to modern styles, such as Craftsman and Mid Century modern.
For interiors, contemporary homes have large, open floor plans.
"Current contemporary style borrows heavily from mid-century modern and modern aesthetics," according to the experts at California-based Movoto Real Estate. "Despite this style emerging over 80 years ago, its simplicity and functionality have proved to be timeless, and thanks to technology, we've gotten even better at making modern homes more efficient and practical."
The Distinguishing Features of a Modern Front Door
As we've evolved from traditional styles into more contemporary designs today, there are some key details worth considering for a modern front door style.
The modern front door has distinct characteristics, including a simple design with clean lines. Glass panels are often used in the door to break up the bold door colors that may be used in Modern home designs, such as Mid Century Modern.
The modern door looks great with flat roofs or as part of a roof line with gently sloping sides. A well designed home will usually have an entrance hall at this point so you'll want your new front door framed by lots of natural light from its sidelights and transoms near the top third level.
Aletha at True Home Restorations is a Mid-Century preservationist. We love the simple modern lines of her front door and entrance (see Instagram post above). The simplicity of this entrance greets visitors with a sense of serenity.
Notice the door knob and deadbolt. Simple. You could use an inexpensive but quality lock set like the Kwikset knob and deadbolt set.
Although there are no sidelights, the horizontal stack of rectangular glass panels allows plenty of light to shine into the interior entry area. Houzz has a large collection of Modern front doors with glass panels and sidelights.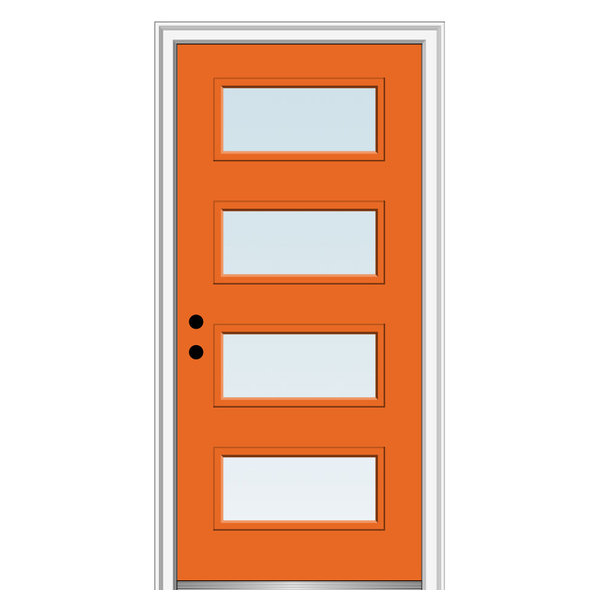 What is a Craftsman style modern front door?
A Craftsman style home is a type of house built in the early 20th century. It has characteristically wide eaves, large front porches and sculpted shingles. Craftsman homes are typically a single story house with and a low-pitched roof.
The porch is usually of simple design but has ornamentation in places such as the spindles that are under its eaves and around its post railing.
Craftsman homes are still beloved to this day. The cottages and bungalows of the Craftsman era have been lovingly restored across the U.S., but new builds often feature more angular modern details or contemporary buildings with elements that echo traditional design features from other periods such as Tudor Revival or Spanish Colonial revival styles.
The craftsmanship quality reflected by these houses was based on skills like carpentry for cabinetry work, metalworking for Art Nouveau railings, and hand-crafted glass panels and brickwork.
A Craftsman style modern front door is made from hardwoods, with mahogany, cherry and oak among the most popular choices.
The doors are usually stained to bring out wood features but a Craftsman door may also be painted to match colors in the home exterior.
The top third of the door usually includes glass panes. It may be one large pane or smaller panes separated by wood trim.
The glass panes in the door may be clear or stained glass.
Sidelights and transoms are also popular for the Craftsman style of a modern front door.
Mahogany Craftsman Style Front Door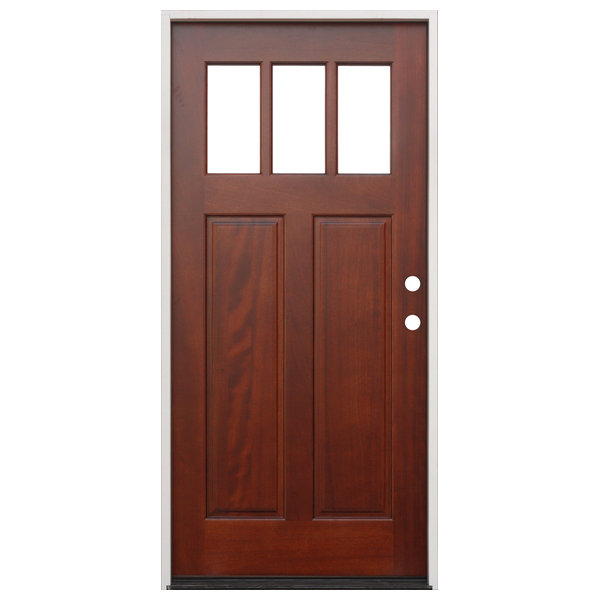 This dark mahogany door in Craftsman style offers the rustic look of rich wood. The door features hand-selected wood that is kiln-dried and pre-hung for your installation convenience. This modern front door has an adjustable sill threshold and weather-stripping to make installation easy – all components are factory fitted for ease of installation.
Mahogany Front Door With Sidelights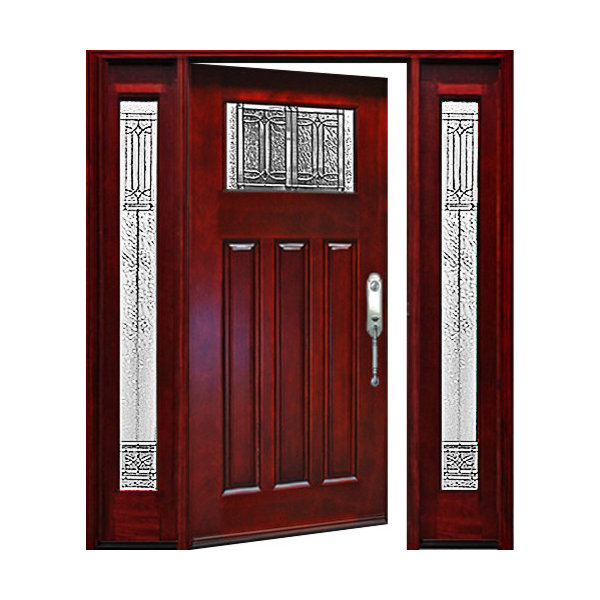 When you need a front door that's more than just protection, this Walnut Craftsman Front Door with Sidelights is the perfect-fitting door for your home. All glass is opaque architectural glass, dual paned and tempered–insulated and designed for maximum durability.
Wooden front doors are a great way to add curb appeal and value for homeowners who want their whole house looking good on the outside as well as inside–and not just because it's easy to maintain but because it complements any type of architecture with its timeless beauty.
A modern front door is often made of metal, glass or vinyl, and these materials are very common on the market today – a wood door may not be available for purchase at your local big box hardware store, and solid wood doors are often expensive.
National Door Company's Fiberglass Modern Front Door for Craftsman
The National Door Company's insulated fiberglass front door is painted and has a right-hand inswing, although you can also find left hand inswings as well. This Craftsman modern front door features classic low-e clear double-paned, tempered glass.
This durable fiberglass door will not rot warp dent or split. Pre-hung on a 4 9/16 inch primed composite frame, this door is ready to install. The painted burgundy color on both the exterior and interior of this product gives it an elegant look that will enhance any home.
The Benefits of Fiberglass Doors for Your Home
Fiberglass is a type of material that is lightweight and easy to maintain. It's also durable, meaning it can be used for many years without wearing out.
Fiberglass doors are made from the same materials as fiberboard insulation so they will not shrink or dry out over time like wood ones do. They stand the test of time!
You can literally choose from hundreds of styles of fiberglass doors, including modern front doors. The doors require very little maintenance and come in finishes that mimic the look of natural or painted wood.
They also reduce heat transfer making fiberglass doors energy efficient as well.
Two drawbacks for a fiberglass front door is that they can be expensive and they are difficult to trim, making them best for standard door sizes, either single or double.
The Verona Home Modern Front Door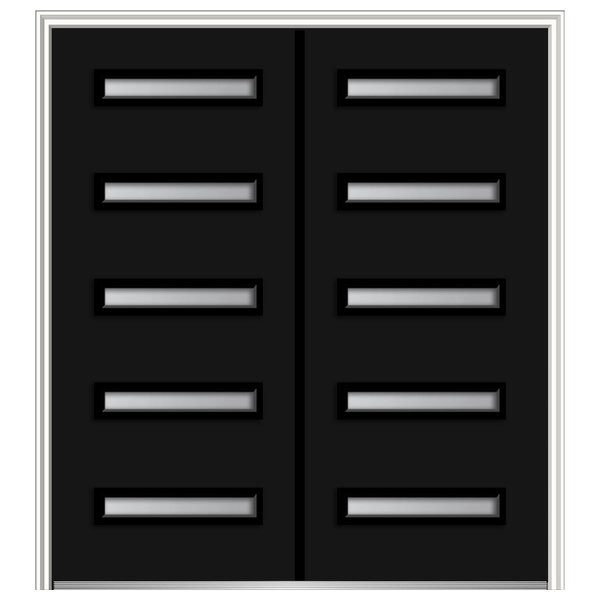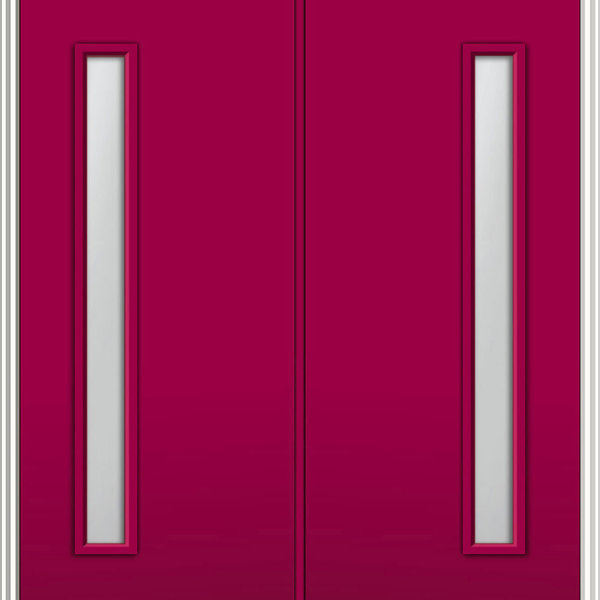 A Verona Home Design smooth fiberglass modern front door is an intricate part of any home exterior and will last for years with only a minimal amount of upkeep. Verona fiberglass doors are virtually maintenance free, won't warp, rot or split like other wood-based constructions, and come in nearly any door color (with some limitations).
Your new door will also meet the most recent energy efficiency standards. Each door comes with a one time limited lifetime warranty on both the door component and pre-hung unit as well as 10 year warranties on each door slit glass lite plus 10 year warranty for the painted finish.
The Benefits of Steel Doors for Your Home
Steel front doors go hand-in-hand with modern architecture. There are many benefits to installing a modern front door made of rather than other materials, like wood or aluminum.
The first is that they're made from durable and long-lasting material. Steel will last for decades without rusting or corroding, which makes it an excellent investment for your home's exterior facade.
A second major benefit of metal doors over wooden ones is their cost. You can purchase a pre-made steel door at a price substantially less expensive than mahogany or oak or even fiberglass.
A third major benefit is the security provided by steel front doors. They make it difficult for home invaders to kick in the front door – the favorite entry for would-be burglars.
There you have it, three reasons to consider steel for your modern front door.
If you are interested in more ways to secure your modern front door, we have the following articles with top suggestions and products:
Wrapping Up With the Modern Front Door
One of the most iconic features of modern architectural style is its distinctive, yet attractive front door. While there are many different types of doors to choose from when designing your own home, taking a closer look at what makes this type so unique will help you find the perfect one for your needs and preferences!
From design tips to considerations about materials that work best with it, we hope these ideas help you make an informed decision on how to decorate your modern front door.