Note: This post contains affiliate links. Simply put, if you click on a product and make a purchase, we may make a small commission. This is at no extra cost to you. For more information, please see our disclaimer and privacy policy.
24 Top Picks for Metal American Flag Artwork Perfect for Home and Outdoors
In America, the flag is a symbol of freedom and unity. It's an iconic representation of our country's values: strength, wisdom, justice, and liberty. And it has been for over 200 years. But have you ever thought about how your home might be showing off your American pride?
The front porches that line historic streets across the nation are often decorated with flags in celebration of holidays like July Fourth, Memorial Day, or Veterans' Day – but what about every day?
Do you want to show your patriotism with something other than an American flag sticker on your car or decal on your laptop? If so, then this article is perfect for you. We're going to be discussing the best metal American flag choices that are available from various USA companies and what they offer in terms of design.
We will provide information about where these products can be purchased as well as information about the creators, including choices for a metal American flag made by veterans. So, if you want to know more about American flag metal signs, keep reading!
Metal American Flag Made by Veterans
We're incredibly impressed with all the crafters who made the metal American flags we feature in this article. That said, we've chosen to begin our list with metal flags made here in the USA by veterans.
Rogue River Tactical is a veteran and woman-owned business based in the USA with products that are mostly made in the US. All of the signs we feature here by Rogue River Tactical are Made in the USA.
The company has been in business for 15 years and specializes in patriotic and funny products.
Rogue River's motto is "Get small town prices with big city speed and service."
We've rounded up a sampling of their metal American flag options, which they sell on Amazon.
A few things to keep in mind about about the Rogue River American flag signs:
These signs are not big. The largest measures approximately 14 inches x 10 inches. The others are about 12 inches by 8 inches.
The signs are made to work indoors and outdoors
Each metal American flag from Rogue River is made from aluminum, not heavy duty steel. Thus, the prices are lower in price than many of the metal American flag products we have listed elsewhere in the article.
The selections we have listed here are all made in the USA.
Each Rogue River Tactical metal American flag has at least two holes for hanging.
Now that you know the important specifications, see below for a metal American flag sign from Rogue River that might catch your fancy.
Metal American Flags for Outside Made in the USA
Next Innovations is a Minnesota-based company that helps design and manufacture both indoor and outdoor decorative art for wholesale distribution. They started in 2002, experienced tremendous growth over the years, then were sold to new owners this past July of 2014.
Exclusive product offerings with unique artisan twists have made them the leading U.S.-made metal-art providing company today!
Among their collection of more than 350 products, they have a line of patriotic metal signs. You can see how they make their wall art in this YouTube video.
According to the company, they use a couple of unique processes that set their products apart for artistic quality and durability. Refractions® is a handcrafted artisan technique that applies uniquely designed swirl patterns, which create another spectacular layer of dimension.
Another process called 7-step Infusion® adds UV and scratch resistant properties to the piece, making it vibrant yet durable!
Next Innovation metal American flag art can be used indoors or outdoors.
Laser Cut Metal American Flag Art
21.5″ x 15″
18 gauge steel
Patriotic Barn Stars
Promote your patriotism and decorate with this wonderful set of 3 star-spangled metal barn stars. These patriotic decorations will make any space shine with American spirit, whether it's hanging on a front door or picket fence, side of garden shed or dry wall that needs some color!
The large star measures 15 ½ inches in diameter while the two smaller stars measure 12 inches each. The stars feature a triangle hanging hook for easy installation. Hang them together as one big statement piece to show how great America is – or separate each individually around your home for an even more impactful effect!
The rustic barn star is made of durable, long-lasting metal and hand painted with paint certified as safe by SGS, the world's leading testing, inspection and certification company. This 16.5″ metal American flag barn star can be used both indoors or outdoors to add a patriotic touch your home decorating needs!
These vintage-style metal barn stars come in twelve different choices of colors and designs. They are also hand-painted and SGS certified. The size of this metal American flag art is 12″ from tip to top.
Related: Colonial front door mega guide to decorating ideas
Lighted Metal American Flag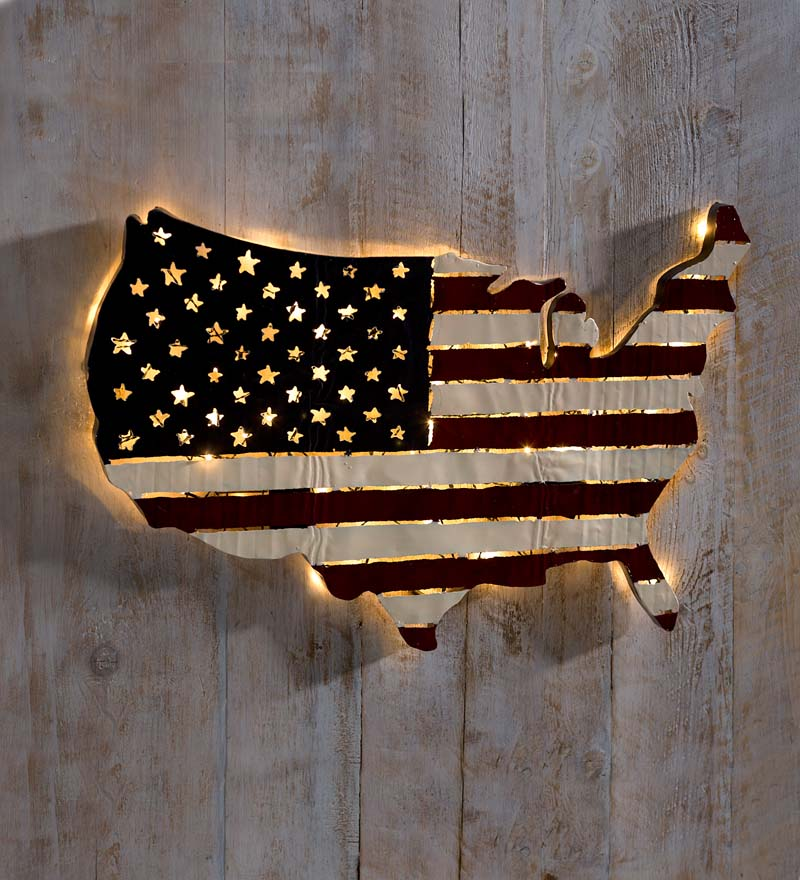 Add more lights to your outdoor living space with the patriotic light-up metal American flag from Plow & Hearth! With its battery operated auto timer and LED lighting system, this artwork shines day and night.
The 8 hour on,16 hours off timer will ensure that it shines when you need it without wasting electricity during other times. This handcrafted metal design from Bali requires three AAA batteries (not included).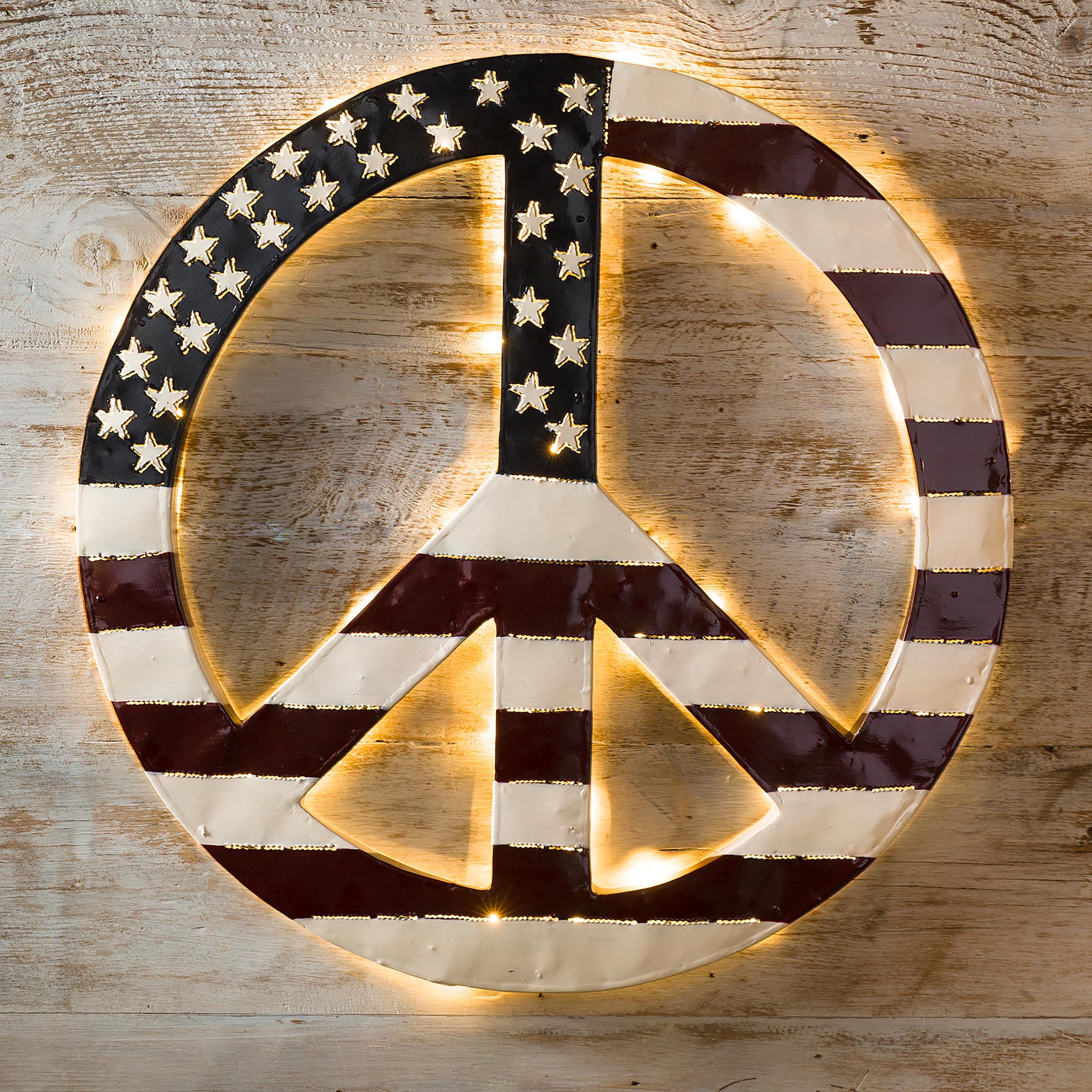 The exclusive Lighted Americana Wall Art is perfect for any patriot! This piece features a classic peace sign that has been punched with tiny holes and then back-lit by battery powered LED lights.
A timer automatically turns the light on when it's dark while off during daylight hours to conserve energy. You can even display this unique art indoors or outdoors, depending where you want to show your patriotism in style!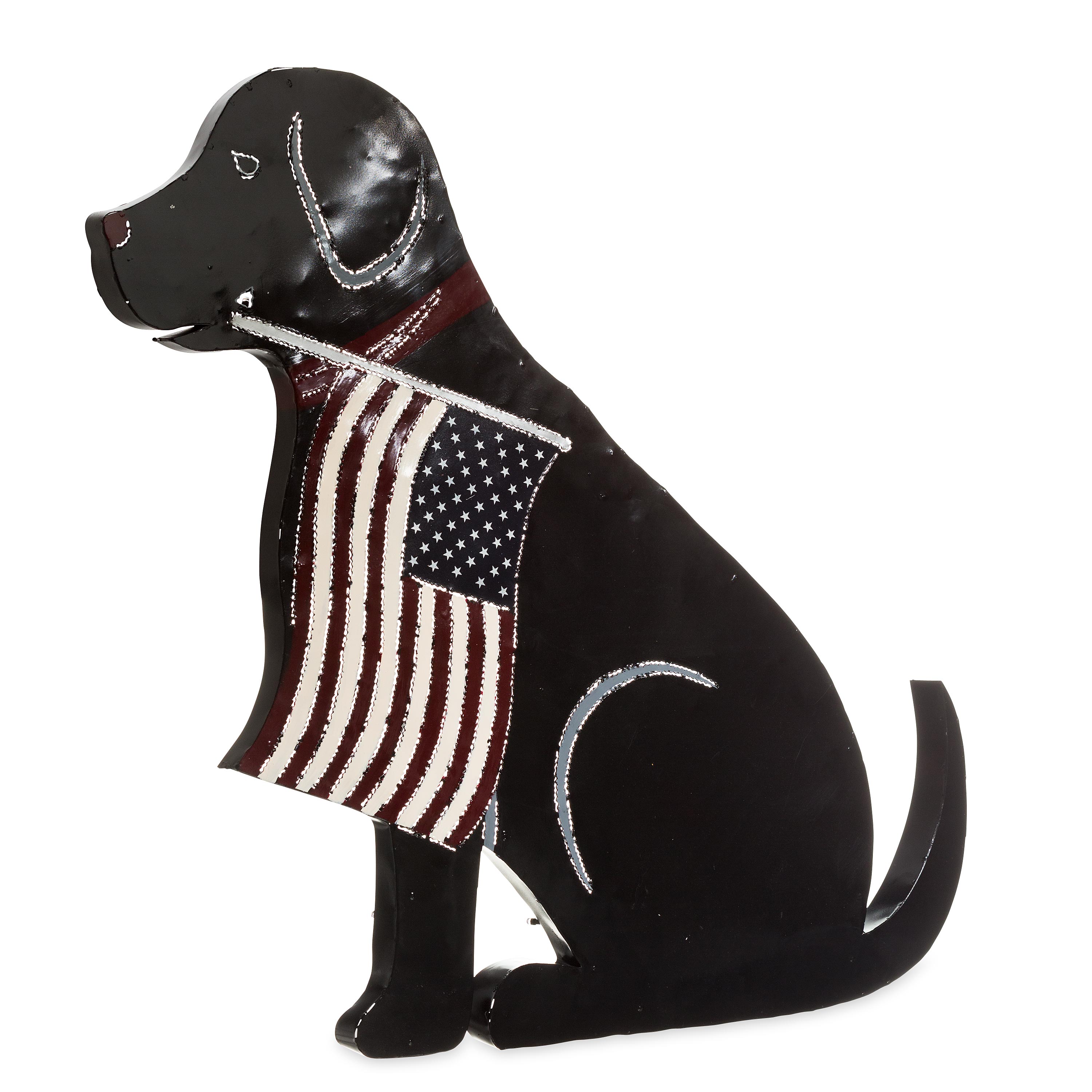 What could be more patriotic than a loyal Lab carrying an American flag, ready to be paraded on display for Independence Day and beyond. This art can be hung on a wall or displayed on the ground or a flat surface with the included back stand.
Parts of the flag and some of the dog's features are punched with holes, allowing light from battery-operated lights that shine through to create stunning effects at night! Each pup is cut by hand exclusively for Plow & Hearth in Bali as they await being adopted into their new home!
Personalized American Metal Flag
Most American companies that create laser cut metal signs are willing to do custom work. You can contact any of the USA-based companies featured in this article to find out more.
The personalized Bald Eagle Metal American Flag Metal sign makes it easy to customize. You can see the text in real time when you select "Customize Now."
Use indoors or outdoors. Perfect on fences and gates. The sign has four pre-drilled holes to make it easy for you to mount anywhere. Made with 100% rust free strong Tinplate, this 8" x 12" patriotic metal sign will stay good as new even after many years of indoor or outdoor use.
Rogue River Tactical's metal American Flag sign with the Thin Blue Line is a perfect gift for any law enforcement officer. The four pre-drilled holes make it easy to hang, and the die-cut USA flag outline makes this 14″x10″ aluminum sign great as indoor or outdoor decoration! Made in the USA.
Metal American Flag Wall Art
Tattered Metal American Flag
A tattered metal American flag represents something that's been through tough times and is still standing.
Since our country has endured so many struggles throughout history, it's no surprise that some people choose to display their patriotism with a symbol that honors those who have fought for our freedom and liberty!
What better way to show your love for our country than with a Tattered and Torn Patriotic Flag made by Heaven's Gate Artworks? This tattered metal American flag sign is made from 14 gauge steel copper, bronzed plated in heat treatment, then finished off with glossy coating.
Hangers welded on the backside make it easy to hang! Comes in 3 different sizes so you can find one that matches your home size – 22 1/2″ wide, 31″ wide or 36″.
To keep their family close and create art for the world, Heaven's Gate Artworks was born. The Arizona company is a result of combined passions: digital arts with metal fabrication skills to brighten up homes through handcrafted artwork. Jenice holds that key in her creative direction while Dennis has 30+ years experience welding metals together.
"We strive to go above and beyond to create beautiful and functional handcrafted pieces that inspire meaning and purpose within our lives," says the couple.
Precision Metal Art's Tattered Flag silhouette design with a vibrantly colored metal American flag pattern is a great way to show your pride in America! This 24″x13″ size has an area large enough for making a statement on the wall.
The Made in the USA metal artwork is made from highly durable 18 Gauge steel construction and has an easy mounting process to make this product one you will enjoy having around for years, as it proudly displays how much we love our country.
Precision Metal Art also makes other products in the style of a metal American flag. You might enjoy the rest of their collection:
Vintage Metal American Flag
For some, the American flag is a symbol of pride and has been for centuries. It's amazing that it represents freedom to everyone in our country.
Some homes may want to use vintage or rustic style metal flags because they're reminiscent of where we came from as Americans-a nation with rich history and deep roots throughout many regions across this great land.
The following vintage metal American flag signs represent some of the Top Picks online.
This American Flag Wall Decor is constructed of strong iron weighing 10 pounds and will stay put against any wall by hanging from the 1.5″ lip with 2 screws (not included). The size is 36″ x26″.
Durable and easy to hang with screw holes, this 8″ x 12″ or 12″x 18″, aluminum metal American flag sign is printed with epoxy ink! If you don't love the product, return within 30 days of receipt. Manufactured in Tomball, Texas at the family-owned Lone Star Art Store.
Made with folded edges for safety and stability, it can be installed in any number of ways: with double-sided tape, nails, zip ties or hanging rope. This durable product does not rust and features UV protection to keep your colors looking great!
A beautifully designed metal American flag sign with Lady Liberty's flame from Cafini comes with pre-cut holes for easy mounting. Careful packaging helps ensure that your package arrives in pristine condition.
JBF Retro features a vintage metal American flag sign (8″ X 12″) made from tin that has been treated to prevent rust or sun damage. It comes with 4 pre-drilled holes for easy mounting or you can use double sided sticky tape or nails to mount it on your wall.
Grace Home Metal American Flag Hanging Wall Art Hanging is handcrafted and painted in the USA with an antique finish The 15" x 10" sign is made of premium and durable metal.
American Flag Outdoor Decor
We've talked about a lot of different ways to show your patriotism with a metal American flag, but we wanted to make sure you didn't forget the other options! Show off some love for America with these great American flag decor ideas.
Metal American Flag Outdoor Garden Bench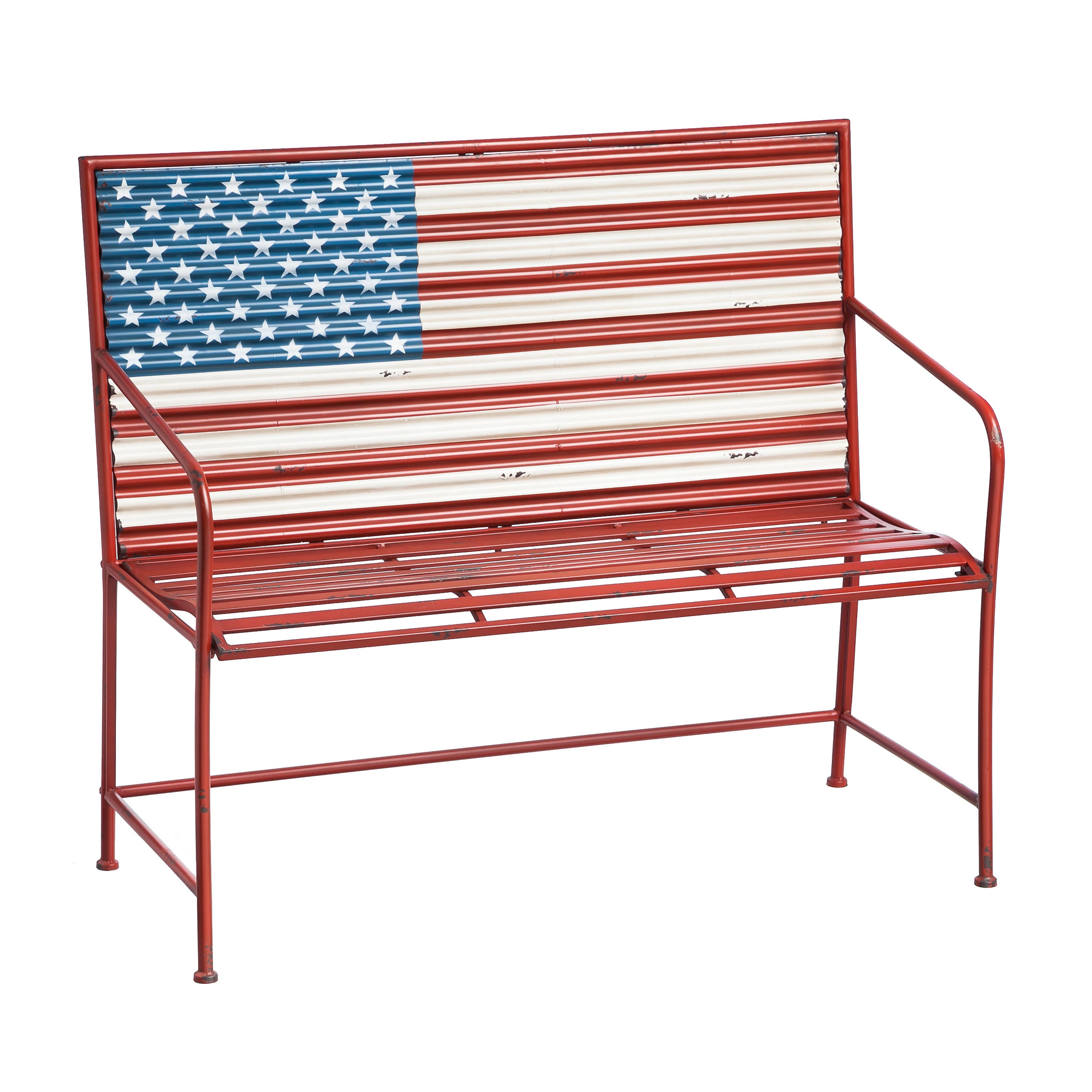 This grand old flag metal American flag bench is perfect for your porch or garden! Sit on it or use it as a place to sit your planters. Its rustic design and red finish will make it stand out in any setting. Made of corrugated iron and featuring textures that create awesome patriotic designs, the sturdy bench can hold up to 250 lbs.
This USA-designed metal American flag bench has been treated for weather resistance and rust protection, helping this outdoor bench to stay vibrant for years.
The armrests on this outdoor bench are curved to ensure comfort and the seat is contoured just right for your bottom.
Assembly instructions are provided—but if that's too complicated, they also offer assembly packages at reasonable prices! The size is 55″ (Length) x 37″ (Height) x 20″ (Depth). And finally, up to 440lbs is its recommended max weight capacity.
Metal American Flag Yard Decor
The metal American Flag Kneeling Soldier is made of high-quality metal that will not rust and resists fading. It's cut from steel and professionally powder coated, according to the seller. The respect for our military shown by this item resonates with us; please note we're unsure about its quality but it deserves a mention!
Uncle Sam's patriotic yard decorations are perfect for celebrating all year long. Each decoration is made of durable metal and includes painted detail on both sides as well as an easy to use stake.
The set includes four yard decorations that each measure 3″ wide x 13″ high; 17″ high when assembled with a stake base included. Each flag is 4 1/2″ wide x 8″ high.
Metal American Flag Windchimes and Spinners
Make room for this wind chime that will make your neighbors jealous. These large patriotic American flag themed windchimes produces a deep, melodic tone on every note to create beautiful harmonic sounds and bring peace of mind when the breeze blows through!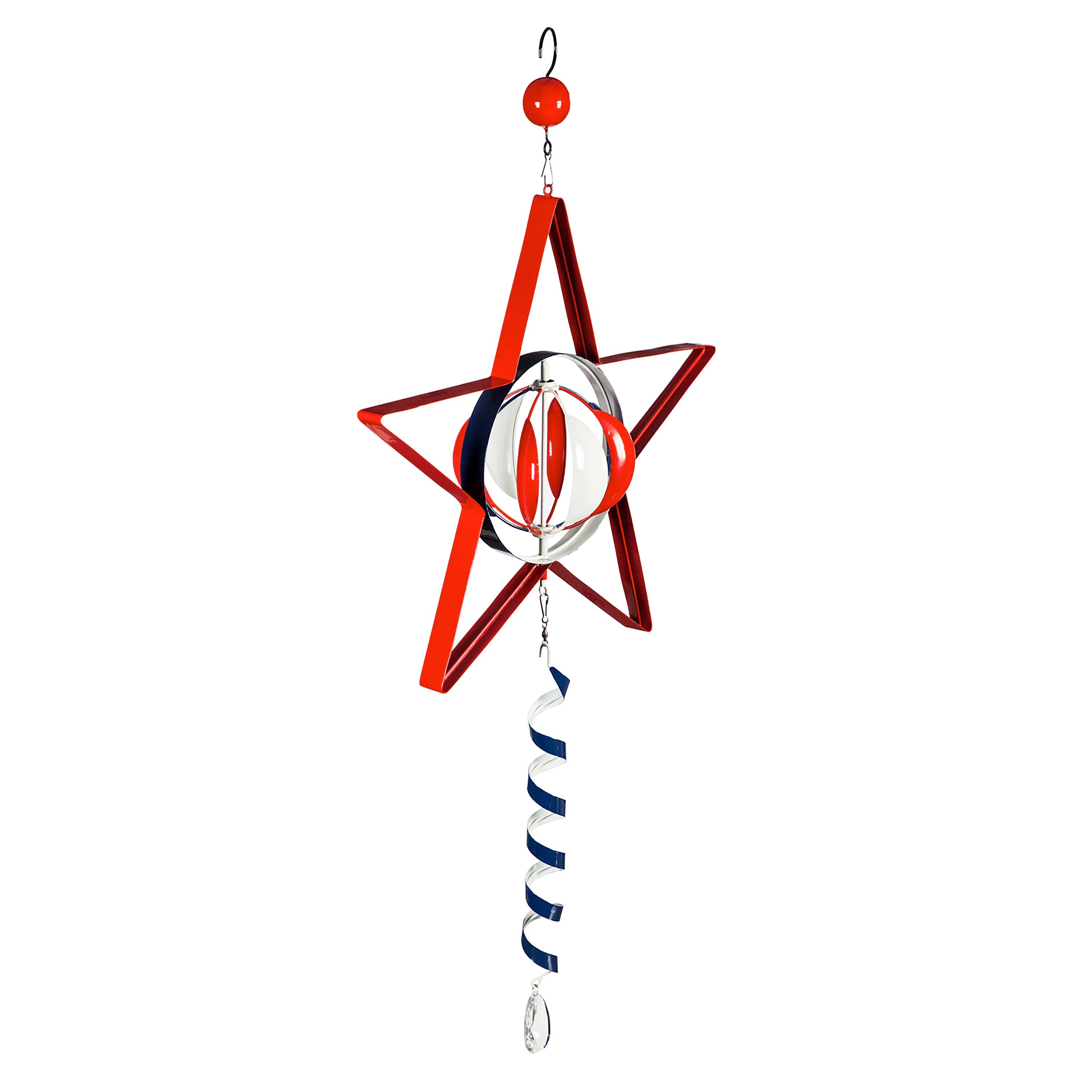 The Americana Star Hanging Wind Twirler is perfect for the outdoors! This wind twirler's kinetic center and its tail spin with each passing breeze.
A crystal hanging from the bottom uses light refraction to cast rainbows in many directions, so you'll have a colorful display all season long. Crafted with weather-resistant powder coated metal, this piece will look lively no matter what Mother Nature throws at it!
Fast Facts About the American Flag
Labels, labels, labels. We put them on everything from clothes to cars. You can even find them in the cereal aisle of your grocery store! But have you ever given a thought about the significance of those labels?
The United States Flag is our most recognizable symbol and we want you to know all about it! So here are 10 interesting facts about the American flag:
There are actually 13 stripes on the American flag representing each original colony that were a part of America.
There have been 27 different official variations of the flag over our American history. The last state to have a star added to the flag is Hawaii in 1959.
The American flag has a national day of recognition: Flag Day. In 1916, President Woodrow Wilson issued a proclamation for Flag Day to be celebrated on June 14 of each year. Even so, Flag Day is not an official government holiday. 
Nicknames for the American flag: Stars and Stripes, Old Glory, and Star-Spangled Banner.
The American flag has not changed since 1960. If Puerto Rico or the District of Columbia were to be admitted as a 51st state – as they continue to petition – then the flag would need a redesign. 
Six American flags have been planted on the moon by NASA's Apollo Mission astronauts. 
According to the American Legion, the colors of the flag have meaning. White signifies: purity and innocence. Red signifies: hardiness and valor. Blue signifies: vigilance, perseverance, and justice. 
The Flag Code that was ratified into law on June 14, 1942, was the result of a 1923 collaboration that took place in Washington, D.C., led by The American Legion with representatives from 68 other organizations.
Contrary to popular myth, you do not need to destroy an American flag that has touched the ground as long as it is still "suitable for display," according to the Flag Code.
Although it is custom to fly the flag between sunrise and sunset, the flag may fly 24 hours a day if properly illuminated at night.
Feeling Patriotic?
American flag decor allows us to show our pride in this country all year long.
You can find products for every room, season, and reason
with this gift guide for red white and blue decor.
Conclusion: Metal American Flag Artwork
We hope this article was helpful in terms of providing you with a variety of metal American flag options. There are a lot of options out there when it comes to metal American flags.
We love to put our expertise to work curating those options so that you have an idea of which one might be right for your needs.
Let us know which option worked for you in the comments below!