Note: This post contains affiliate links. Simply put, if you click on a product and make a purchase, we may make a small commission. This is at no extra cost to you. For more information, please see our disclaimer and privacy policy.
12 of the Coolest Ideas for a Flip Flop Wreath [+16 Outdoor Decor Top Picks]
It's that time of year again. The weather is starting to warm up and flip flop season is here! Whether you're hosting a party, entertaining guests at your home, or just looking for some new decorating ideas, these 12 cool flip flop wreath ideas [+ 16 outdoor flip flop decor picks] are going to be perfect for any occasion.
There's something for everyone in this list so make sure to give it a look!
We've got everything from simple wreath designs featuring colorful sandals to eye-catching flip flop doormats.
It's time to kick back and enjoy summer with everyone's favorite shoe – the flip flop!
Find Your Perfect Summer Flip Flop Wreath
Every year, people all over the country search for flip flop wreaths to adorn their front door. But with so many different options on where to buy them and which ones are best, it can be a daunting task!
To help you find that perfect summer decoration for your home this year, we've compiled 12 of our favorite flip flop wreath ideas. Check out these beautiful designs below:
First up is what else but a flip flop wreath made from actual flip flops. Poppy from Ohio is a true DIYer. She takes real flip flops and turns them into beautiful wreaths perfect for any front door, big or small!
For custom orders, you can choose from a selection of flip flop colors as well as the paper flowers that will accentuate your creation. If there's an idea you have in mind, send her a message; Poppy will try to make it happen!
Our next five recommendations are handmade mesh wreaths – which are one of the hottest trends for front door decor.
What happens when you combine the mesh wreath trend with flip flops? You get summer worthy front door decor!
We have a few favorite mesh wreath makers on Amazon who are all handcrafting wreaths – mostly from their homes across the U.S.
Dana from Pink Door Wreaths in Kentucky has been making front porches and doors more beautiful and inviting since 2013.
Pink Door Wreaths has grown to a team of friends who touch every piece with love and excellence. Pink Door Wreaths is more than just an arts-and-crafts business: Dana built the company as a way to support stay at home moms, her closest friends, and those who supported her dream.
Pink Door Wreaths creates high quality but affordable products. They have served over 15,000 customers and strive for each customer to be so satisfied with their purchase that they refer their friends or family to the store as well.
From Kentucky we head to New York for our next premier flip flop wreath crafter. If you're not already acquainted with Diane from What A Mesh, let us introduce you to this Staten Island resident.
Wreath designer Diane supervises a creative staff who hand makes every product in her workshop with care and precision – using only safety scissors, glue guns and rotary blades!
It takes approximately 2 hours to make an original "Diana" style wreath; this includes choosing from our wide selection of materials such as burlap or more commonly deco mesh.
These handmade creations will definitely stand out on any door step. Here are two fun choices from Diane for a flip flop wreath.
Our next creator of a flip flop wreath is Ashley from Deer Park, Texas, whose wreath business is called Paradise Wreath Boutique.
Ashley has a huge selection of mesh wreaths to choose from or you can make a custom order.
Her mesh wreaths are so full you can't see through them! Her secret? Lots of wire to attach all the intricate pieces together that ensures strength no matter what season or weather conditions come our way. All of her wreaths are sprayed with UV/weatherproof protection.
Of course we can't talk about a summer flip flop wreath without a patriotic choice.
Put your best foot forward as you display the Plow & Hearth Americana Flip-Flop Wreath, where two all-American classics come together in one irresistible design. With an array of colorful flip flops and lots of dimension and texture for a whimsical yet patriotic feel, the metal wreath is sure to be a showstopper in every home!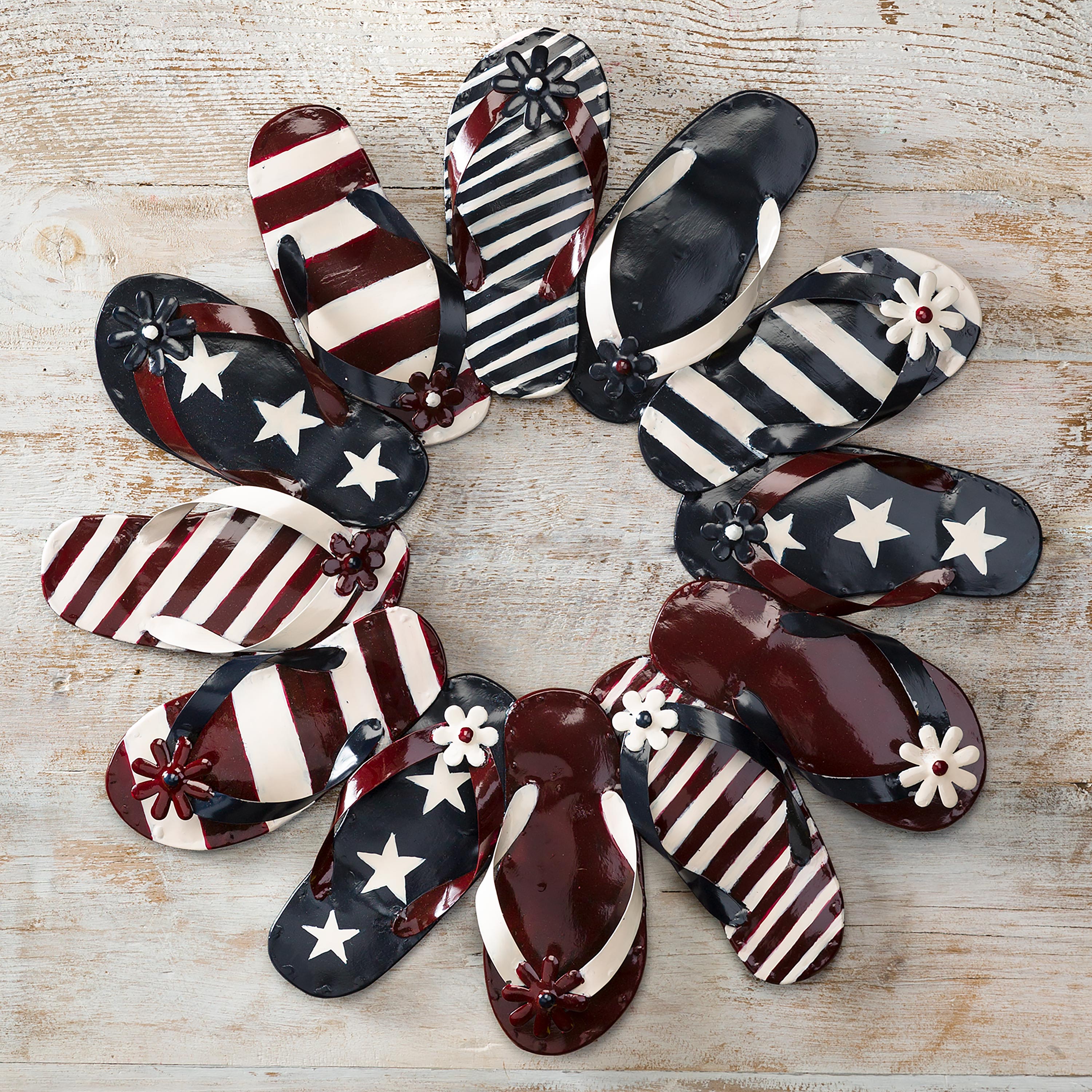 5 of the Best Flip Flop Wreath Door Hangers
You know it's going to be summer when you see a flip flop! Door hangers are a cheerful way of announcing the season.
Our experts have found five of the best choices for flip flop wreath door hangers .
Two of our favorite front door flip flop hangers were created by the Evergreen Flag store, which was founded over 25 years ago with the mission of adding stylish, exciting pieces to your home.
Evergreen Flag's focus has been on giving you choice in design and materials for decades – as they have grown both the collection size and number of customers! You'll find everything from classic styles that are perfect for a traditional setting or eclectic designs which will make any front door pop.
Their plaid flip flop door hanger measures 13 inches tall by 20 inches wide. The outdoor door hanger is fade and weather resistant.
Evergreen Flag's Life is Better in Flip Flops door hanger is made of weather resistant material. It measures 22 inches tall and 12 inches wide. The material looks and feels like felt.
Whenever we can, we like to work with USA Made and Based Companies. We were delighted to find St. Louis-based Studio M's flip flop wreath door hanger.
Featuring original artwork by Sally Eckman Roberts, this flip flop door hanger will never go unnoticed and even features an easy-to-hang hand tied bow! The prints are digitally printed in the USA with outdoor ink for long lasting color that won't fade away soon after being hung on your front door.
Want to welcome your guests with a smile and some style? With this bright flip-flop door or wall hanging "Welcome" sign, you can add the perfect coastal touch. The colors are complemented by 7 flip flops that form letters spelling out 'Welcome.'
This flip flop welcome sign is a perfect complement to a Farmhouse style front door. The wooden sign is about 11 inches in diameter.
If you love front door wreaths as much as we do, you might also enjoy these related articles:
More Outdoor Flip Flop Decor
We love a fun flip flop wreath, but that doesn't mean summer's quintessential footwear can't adorn any and all of your outdoor decor.
Flip flop outdoor decor pieces are an excellent way to accessorize during this summer season because flip flops make everything seem more relaxed and laid back. It shows off what type of mood we're in – as in ready for the beach or lounging by the pool.
Here are some great outdoor flip-flop items to make you feel like it is always warm outside!
Flip Flop Doormats
If I had to choose my favorite outdoor accessory during summertime, I would have to say front door mats because they give everything such an easygoing feel.
Flip flop front door mats are a fun accessory to add summer cheer to your home's entrance. They make it look like you just walked off the beach! It's great for showing off that you're enjoying the warm weather, and it shows how much you love to relax.
How fun would it be to brush off the sand and dirt from your actual flips flops on a flip flop door mat!
Our research into flip flop doormats led us to five favorite picks. First up are two doormat inserts from the Evergreen Flag company. Evergreen Flag is another one of those companies with an inspirational story that started with the American Dream in a garage in Richmond, Virginia.
Two decades later, the company is still led by its founder.
For these two playful and boldly colorful flip flop mats, you'll need Evergreen's Sassafras Switch Welcome Mat Tray. All of their mats are fade and weather resistant.
Studio M in St. Louis, Missouri, has a similar flip flop mat with original artwork licensed from Jennifer Brinley. You can also purchase a matching garden flag.
For a machine-washable indoor/outdoor rug, this flip flop doormat will stay put thanks to a rubber backing. It's also customizable.
We've also included a coir doormat because these natural fiber mats are so durable and great at keeping dirt out of your house. The embedded 3D flip flops almost look like the real thing!
Summer Outdoor Pillows
When you're lounging outside, nothing's more comfortable than a plump pillow. In the summertime, these pillows are perfect for chilling on your porch or using to add an upscale vibe in other outdoor living spaces like patios and decks.
Make sure they match your personal style! Some people prefer super decorative ones that have tons of colors while others go with all-purpose options. With a flip flop wreath and doormat, you can have a flip flop theme!
We discovered three great choices for outdoor pillow covers with the flip flop motif.
Flip Flop Garden Flags
Garden flags are an excellent way to make your outdoor space more whimsical! With so many styles, you'll be sure to find one that suits your tastes.
If you're looking for a creative and welcoming sign in the landscaping around your front door or any other place, these flip-flop garden flags offer just what's needed. Plus we found a super fun spinner pinwheel made from flip flops!
Wear Your Love for Flip Flops on Walls with Indoor/Outdoor Signs
We have two more flip flop decor pieces for those of you who have fun with making a statement! Just like a flip flop wreath, these signs can be displayed indoors or outdoors.
We like the idea of placing one outdoors on a porch, on the back patio, or an entryway for guests to see as they come in.
The other idea is to hang them on the wall inside your home as decor.
Treat yourself with these signs and let others know how much you love flip flops!
Wrapping Up With the Flip Flop Wreath and Outdoor Decor
The flip flop wreath is the perfect accessory for your front door or back patio! If you love to decorate with outdoor flip flops, then this article has some great ideas that will help you.
These 12 best flip flop wreaths for the front door and other outdoor decor were carefully selected and reviewed by our team of experts who are passionate about home decor.
Which flip flop wreath or outdoor decor did you like best? We love to know in the comments below.