Note: This post contains affiliate links. Simply put, if you click on a product and make a purchase, we may make a small commission. This is at no extra cost to you. For more information, please see our disclaimer and privacy policy.
Colonial front door mega guide to decorating ideas
A colonial front door is a style of door that has been popular in America for decades. Originally, these doors were used on the homes of wealthy colonists as they wanted to make their homes look more like English or Dutch.
Over time, this design was adopted by other people and became a staple in American architecture. Nowadays, you can find many different styles of colonial front doors all over the country! In this mega guide, you'll find an extraordinary collection of ideas and products to help decorate your own iconic entryway.
The History of Colonial Style Homes
A colonial house is one of the most popular architectural styles in America, developed after our country was born. The first colonists to arrive from England brought with them their traditions and vernacular houses that were built using a design originating on the British Isles.
It features symmetrical facades with white trim around windows and doors, projecting central pediments supported by Doric or Ionic columns for porches or verandas (the latter are usually found only along rear elevations), and cornices beneath gables punctuated by chimneys at each end. These homes always had large front gardens as well.
Colonial style homes became popular again during World War I when people were in need of a nostalgic reminder that life was still worth living. This style is referred to as Colonial Revival.
What is a Colonial Style Door?
A traditional Colonial front door features four panels in a symmetrical design. The door is notched at the top and bottom and are usually decorated with carved moldings or other embellishments to reflect its colonial style.
A colonial front door may consist of four pieces: two outer planks (one left side one right), an inner plank for support behind the hardware system (often called a jamb) and another piece placed between the jambs to hold up the hinges on either end of this board called a header strip.
A Colonial front door can be painted solid colors like white or black, but they also have many detailing styles that make them look very attractive! Some popular colonial door designs include raised panel, half-panel, full lite, and open porch.
The Colonial front door color can be contrasting but all of the trim, including the sidelights should be in white.
Many Colonial Revival doors feature sidelights. The sidelight is a thin window panel on either side of the main entrance door. The sidelights cover up all but about an inch or two from the top, and allows light into your home.
A major trend in colonial design is to mix materials. You can put a stained-glass panel or other material in your sidelights.
Where can I buy a Colonial front door?
If you're in the market for a new colonial front door, we've found some period appropriate doors for a range of Colonial styles. If you want to know more about the different Colonial house styles, see below in the article where we discuss the different types of Colonial houses.
Before we move on to outdoor decor for your Colonial front door, let's look at a few exterior front entryway doors that would work well in Colonial home styles.
The Tampa door, featured above, with intricate iron designs is an appropriate choice for a Spanish Colonial front door and in some cases could work with French Colonial design.
It's made from iron and steel with rain glass panels inset. Notice the angled eyebrow door tops with triangular glass insets and swirling iron design.
You can find the same look but at a few thousand dollars less from BGW Doors in California, which can be purchased straight from your Amazon account! If you're in doubt about ordering a door from Amazon, read the verified purchaser reviews. Those reviews are incredibly detailed.
We had our doubts at first too, but then we started researching U.S.-based door companies and found what we wanted from companies in California and Texas. They make their doors available through online retailers like Amazon and Houzz.
Other top choices for a Colonial front door include the following: (Just click on an image to find your size and read about product specifications.)
What kind of wreath should I use on a Colonial front door?
Traditional or modern wreaths are both good options for a Colonial front door. You also need to think about the size of your door and what you would like it to look like. Many Colonial houses have double front doors, which is the type of entrance we have on our house.
I usually buy double wreaths in the standard size, but sometimes they're a little bit too small for what I want to do with them and that's when it pays off to get one on the larger side of "standard."
Another tip: Measure your door height before purchasing anything so the decoration hangs at eye level.
I've jotted down a few of the options for you that go well with a Colonial front door:
A traditional wreath that is decorated with berries, ribbons, and pinecones will give it a old Colonial vibe. You can also use live wreaths made from twigs, leaves or berries.
Even modern wreaths with ribbon loops or feathers will work for a Colonial front door.
A hydrangea wreath for a Southern colonial front door is a great choice.
Wreaths with any number of flowers combined together are also popular options. One thing to keep in mind is color palette: Light colors like white will go better on the Colonial style that is painted black.
This Yellow Forsythia Door Wreath, shown above, will really pop on a black Colonial front door.
This 24-inch wreath is made of high-quality faux forsythia flowers. The hidden beauty of this wreath is that it transitions from spring and on to summer seamlessly so that it is an ideal decoration for your front door.
Each wreath is placed in a sturdy kraft box with plastic locks, the box also can be used for storage. For best longevity, keep out of direct sunlight and rain.
Keeping in line with the traditional Colonial American look, we searched for a fall wreath and found a perfect choice overflowing with big, gorgeous florals.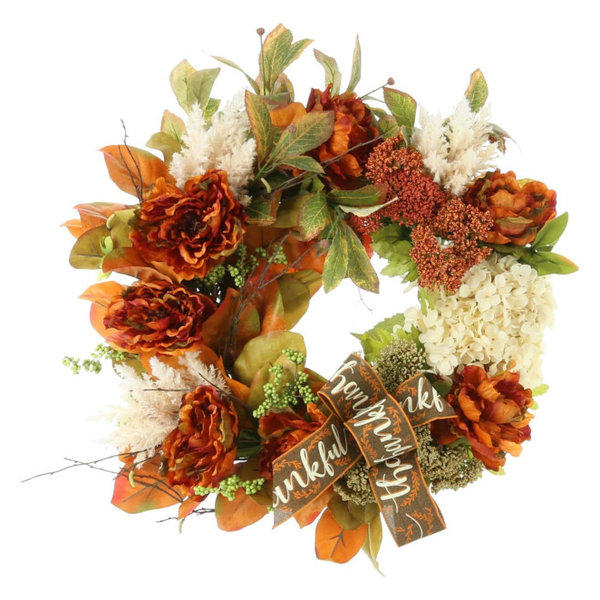 The orange leaves, rustic Queen Ann's lace, green berry, cream hydrangea and thankful bow are all attached to a 28″ wreath, pictured above. The peony and papyrus grass add the finishing touch!
Related: We have more summer and winter wreaths to explore!
The Wreath Depot Aurora Winter Wreath, above, is handcrafted on a natural base with faux green holly and evergreen, natural pine cones, and faux large and small red berries. Enjoy a natural appearing wreath without the hassle of having to replace a fresh wreath each season.
This beautiful wreath measures 22 inches across diagonal when displayed outside. Hang the wreath under cover to avoid any rain damage or discoloration.
Protect your gorgeous wreath when the season is over with the included Wreath Depot storage gift box.
Front Door Decor for Colonial Style Homes
Covered porches are the perfect place to relax and enjoy a cup of tea on those cool, rainy days. Many covered porch designs offer space for sitting as well as tables or countertops that can hold refreshments like iced coffee or lemonade.
If you're looking for an inexpensive way to add some charm to your colonial home's front door, consider adding outdoor furniture in the style of planters with flowers at either end of the steps leading up from the sidewalk.
Outdoor dining sets also work nicely when placed under these types of structures.
And don't forget about lighting! It is important not only because it adds safety but also because nighttime is often our favorite time to spend outdoors.
Colonial Front Door Lighting Options
The Emliviar Outdoor Wall Lantern is a perfect way to illuminate your Colonial front door.
Weather resistant and suitable for wet locations, this outdoor wall sconce features sturdy aluminum construction and a clear bevel glass shade. The open bottom allows for easy bulb replacement. The light is hard-wired, and includes all mounting hardware.
Comes in small and medium sizes.
Requires 1 x E26 base bulb (Max.100W), NOT included.
Compatible with LED bulb, Incandescent or CFL bulb (not included).
ETL Listed with a one-year warranty.
The Large Colonial Outdoor Post Light by Luxury Lighting features an elegant round design with an ornate black silk finish.
It measures 23 inches high x 12.5 inches wide with a 3 inch diameter pole that is made of solid brass for long-lasting use. The top of the fixture features a glass shade that helps disperse light evenly throughout your yard, porch, or patio area.
The Cambridge Outdoor Post Light is a replica of the original lanterns used for streetlights in the late 19th century. The light design comes in other front door light styles, including:
Doormats to Go with Your Colonial Front Door
For most Colonial style homes, such as Federal, Georgian, or British, choose a traditional design, such as a monogrammed front door mat or a mat with intricate iron-like scrolling.
If you're a fan of HGTV, you may have seen the Coco Mats 'N More front door mat featured in the magazine. Their coir door mats are beautiful but also highly effective at keeping dirt out of your house.
Coir doormats are thick, but it is not the thickness that is important. The more important consideration is that the fibers be tightly woven. Coco Mats are known for the density of their mats.
Their front door mats are made in the USA – in Washington and Georgia.
The wrought iron design of this rubber scrollwork doormat is beautiful but substantial. In other words, it stays in place and is durable. The mat can withstand extreme temperatures and is anti-slip.
For a Cape Cod style house, we recommend a Colonial front door with a nautical vibe. The Wicked Good Lobster doormat, pictured below, can withstand any kind of weather – sun, salt, snow, and rain. Makes sense, though! After all, it is made out of ropes used by fishermen to tether lobster traps!
The mats are specifically woven so that they trap dirt but not water, so they never get soggy. To clean, just hose off! They come in a variety of colors.
Like coir fiber doormats, the lobster rope doormat does have a high profile, about 1 inch. If you're worried about door clearance or a tripping hazard, you might before a low profile outdoor rug or front door mat.
If lobster rope is not your thing, how about the lobster itself? The Trans Ocean Lobster Rug can be used indoors or outdoors. It is made to be weather resistant and is UV protected.
Colonial Style Outdoor Furniture for Porch or Patio
Adding colonial period furniture to your porch or patio will help you create a more inviting space. We've found great pieces that are both beautiful and functional, so they're worth the investment!
Wicker and other colonial style furniture is a natural fit for your porch to complement your colonial front door. They typically come in sets which makes it easy to find coordinating pieces that will complete the look of your space. You can also mix these types of furnishings with wood pieces if you want an eclectic feel.
Wicker furniture, which is made from rattan materials, has an inherent association with colonial style design because many regions in Asia and Africa, where rattan mainly originated from, had a high level of productivity for this type of plant. Natural materials like bamboo, banana leafs, reeds, palm leaves and sticks are also widely used to construct rattan.
Cane back chairs were also commonly used in colonial times. These types of chairs are reminiscent of the Charleston chair, which is typical to use on a porch or garden setting.
Cane backed outdoor furniture will create a comfortable seating area while also adding an element that gives off vintage charm.
We selected 5 of our favorite quality sets and pieces to get your started with your colonial style outdoor furniture.
This Wicker Deep Seating Sofa Conversation Set with Coffee Table is made using a powder-coated metal frame that is rust-proof, durable and not easy to break. The premium PE rattan wicker provides high tensile strength that is water resistant and fade resistant. UV protection ensures long life.
This outdoor furniture set features deep and wide seats with 4-inch thick sponge-padded cushions that stand up to frequent use. The cushions don't slide around or leave indentions from sitting.
The N&V Wicker Bistro Set comes with a table and two chairs with cushions. It's an ideal choice for a conversation set for small outdoor spaces. The set features a durable hand woven rattan frame and sturdy legs that are powder coated for rust resistance.
It needs to be assembled, but it is very easy and only takes about one hour to complete, according to the manufacturer.
Premium Outdoor Wicker Furniture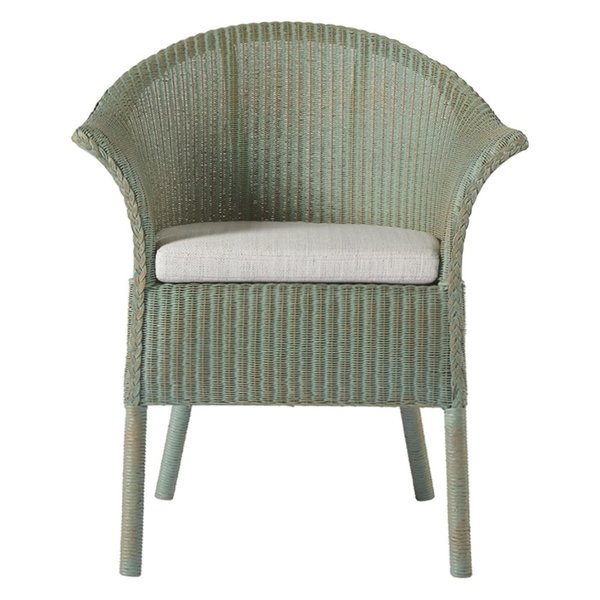 The Bar Harbor Dining and Accent Chair offers a casual, relaxed style with a simple textured frame accented by graceful braiding. The chair is available in four colors to match any decor and the solid wood legs are finished in espresso brown.
Whether you're looking for seating for an outdoor table or an accent piece for your porch or patio, this chair will be a welcome addition to your home.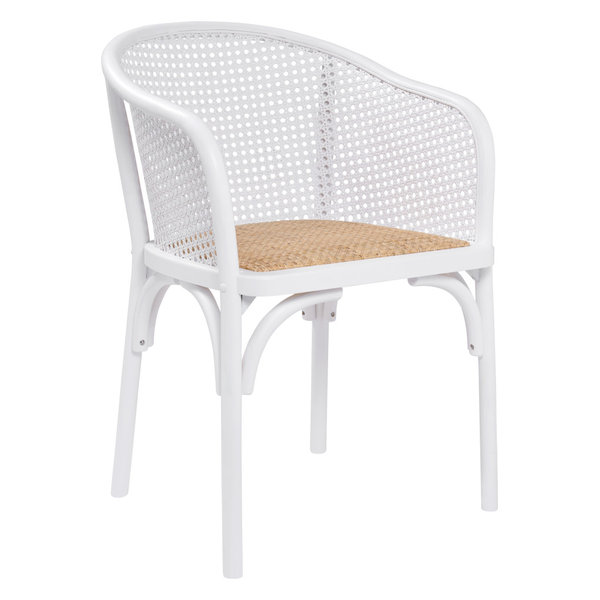 Crafted with a cane back, rattan seat and solid wood frame, the Elsy armchair uses century old finishing techniques to bring graceful elegance to your home. Paired with a dining table, or used as a standalone, the geometric construction has been etched out with pristine detail, and the sleek surface is both easy to clean and resistant to staining.
You deserve a break— just put these GDF Studio's Admiral Outdoor Wicker Swivel Rocking Chairs on the front porch and you will be sure to take time for relaxation.
Made from durable, water-resistant materials like top quality wicker, this chair is so comfortable that it might make your evening plans change altogether.
Outdoor Colonial Decor for Your Yard and Garden
Let's not overlook our outdoor spaces like lawns and gardens as a place to expand our Colonial design.
In Colonial times, the garden was an important part of life. It typically consisted of a kitchen garden with herbs and vegetables planted for cooking; medicinal gardens with plants used in remedies; and orchards where fruit trees were grown to provide food year round.
For our yards today we can include these same elements as well as other decorative touches like garden trellises and birdhouses.
Colonial Style Birdhouses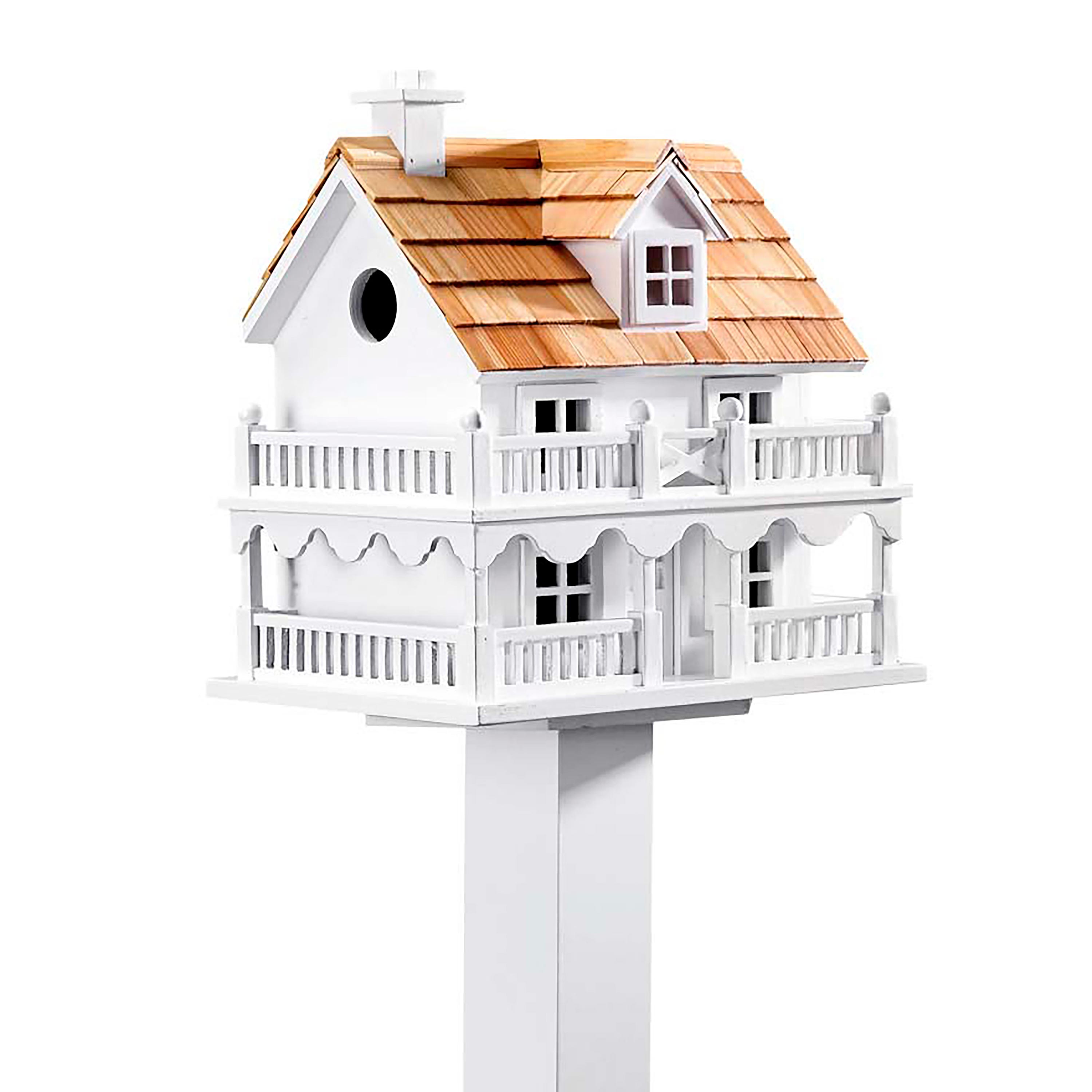 This charming Cape Cod Birdhouse is a beautiful addition to your landscape. Made of cedar, this birdhouse features windows, railings and front door. Painted in crisp white, no detail has been overlooked.
The two-story design includes ventilation and drainage for easy cleaning. Attract wrens, finches, chickadees and more to nest with this fully functional birdhouse that's sure to please!
New this season is the Cape Cod Birdhouse in a cool celery green. For a festive winter look, consider this beautifully decorated Lighted Holiday Colonial Cottage Birdhouse and Pedestal Pole Set, pictured below.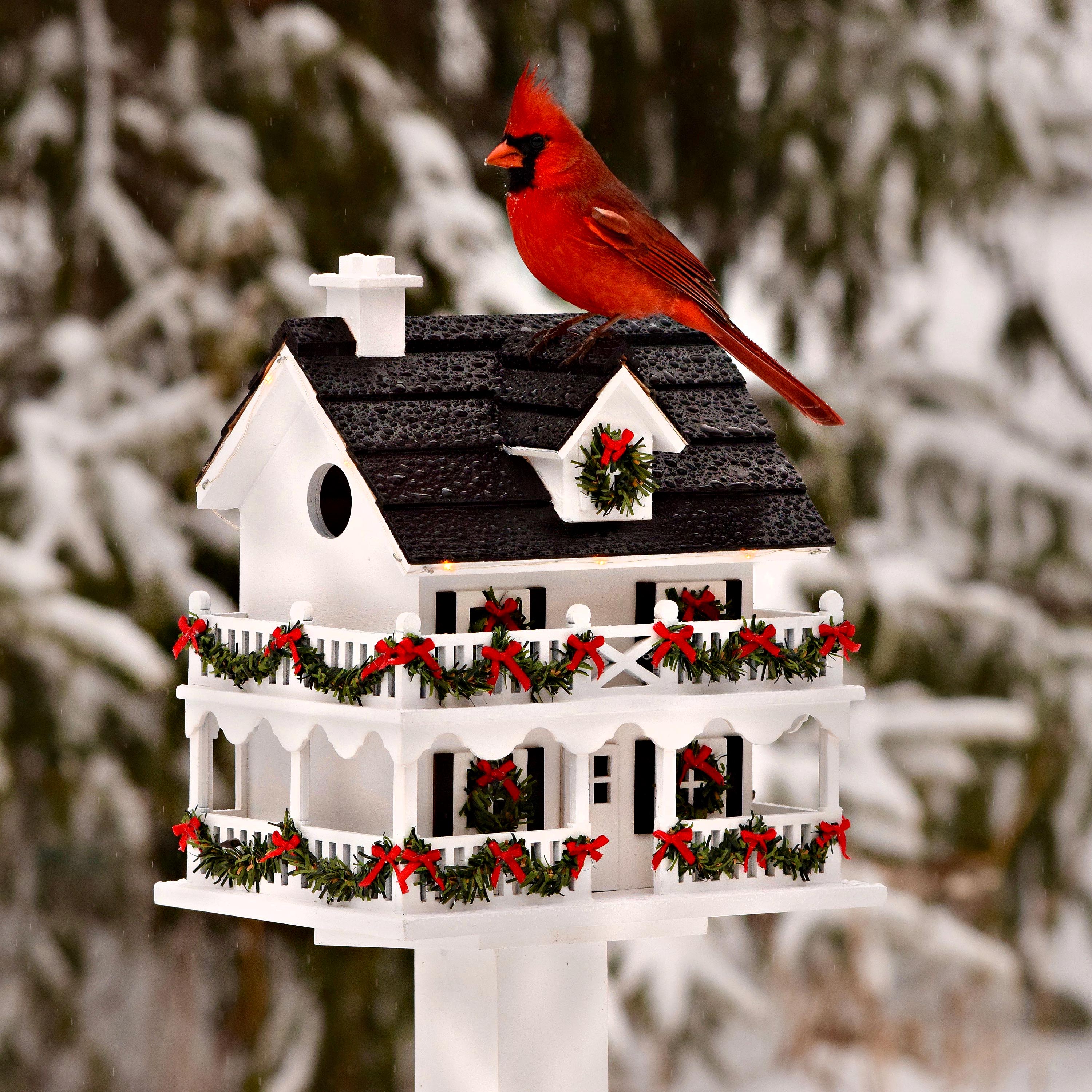 The Athens Vinyl Garden Trellis, seen below, adds an architectural focal point to any garden. Best of all, this sturdy garden trellis is made of maintenance-free PVC vinyl that will last a lifetime. It's perfect for climbing vines or flowers and strong enough for climbing vegetables.
Knotty cedar can be expensive, but the Athens Vinyl Garden Trellis offers the same great look at a fraction of the cost. This trellis comes in two sizes, so you can choose one that fits your area perfectly.
Easy installation: Just stake it into the ground. The trellis won't rot and never requires painting.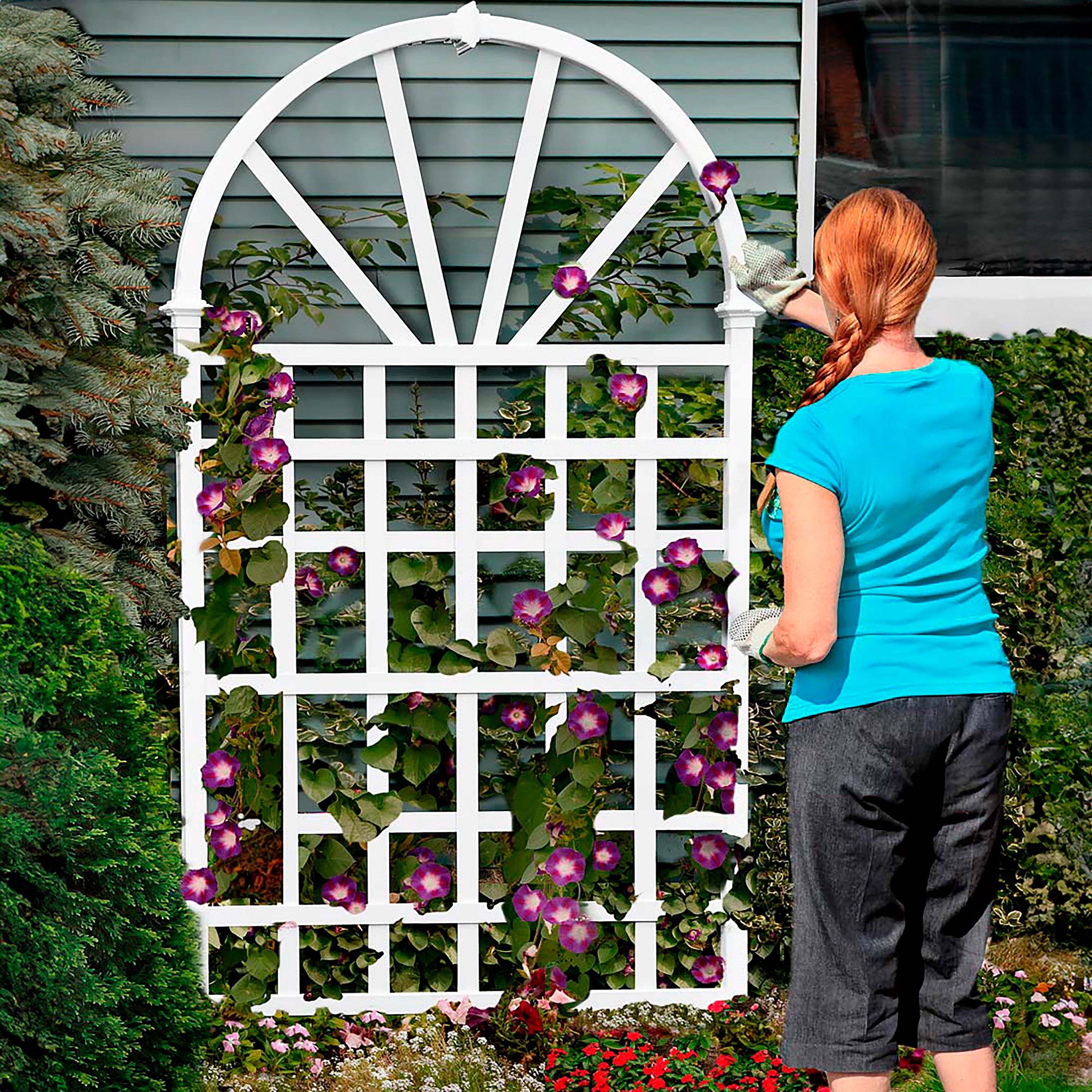 The Main Types of Colonial Style Homes
Colonial style homes have a range of architectural looks. In the following sections, we give you a summary of the major design types to help you determine the best decor to match the style of your Colonial front door.
What is British Colonial Style?
The traditional American colonial house featured characteristics of British homes. The houses are two to three stories, but never just one story.
Made of wood, stone, or brick, the houses are most often rectangular in shape. The original houses had central chimneys.
The design is symmetrical and the British Colonial front door front door is always front and center. Around the door are decorative elements, such as transoms and sidelights.
The architectural characteristics of the typical British colonial house include porches, columned entrances and high ceilings.
The interiors of British colonial homes have a lot of character. That includes fireplaces, high ceilings, and large windows that let in lots of natural light.
What is Dutch Colonial style?
One common style for the Colonial era was Dutch Colonial Revival architecture, which has its roots in New York State's Hudson Valley Region. The homes were built with an asymmetrical exterior featuring a gabled roof with two or more dormers to let light into every room.
This home style typically features double-hung windows, shutters, and decorative carved ornamentation along less formal porches known as stoops. The traditional Dutch Colonial front door is split horizontally. The top part can open while the bottom of the door stays closed.
In early times, this helped keep the barnyard animals out of the house.
The porch usually runs across all levels like those seen at Mount Pleasant Mansion Museum. Floors are often raised off ground level using brick piers so they don't flood when it rains.
Dutch Colonial Revival architecture was popular in North America from the 1870s to 1940.
What is a Federal style home?
The federal style home is a classic colonial-era house with an emphasis on symmetry and order. The architectural elements of the Federalist era are found in these homes, but there's more to them than that.
This iconic American architecture has some specific features including: symmetrical facades, balanced proportions, fanlights over doors or windows (to allow for light), pediments above doorways, shutters at windows, and "Federal" columns which might be made of brick rather than stone like their Georgian counterparts.
"The Federal style is also known as the Adam style, after the Adam brothers, British architects who developed this style in England," according to the Pennsylvania Architectural Field Guide. "It is really a refinement of the Georgian style, which was popular in the years preceding the Federal style."
The most distinguishing exterior of this house is its red brick with white paint. Unlike homes in the Victorian era that typically used dark colors, these homes have wood trim painted white.
A Federal Colonial front door is usually accompanied by a transom in a fanlight pattern and sidelights.
What is Spanish Colonial style?
The one thing we love about Spanish Colonial style is the stained windows with wrought iron details.
Spanish colonial homes often have yellow, terracotta, or light-colored stucco and roof tiles in earthy tones of browns, oranges and tans. The doors are usually painted a bright white with wrought iron handles which make them stand out against the red clay walls.
Glass doors covered by a "screen" of intricate wrought iron is now a common look for a Spanish Colonial front door.
What is French Colonial style?
The term "French colonial" refers to architecture from France's former colonies that combine elements of Neoclassical designs with those found throughout Africa, Asia and South America.
In the United States, French Colonial style is often seen in the old homes in New Orleans.
The American French Colonial home style is distinguishable from the English colonial home because it's less symmetrical and more asymmetric.
It also has a much less formal look than its counterpart, with wider eaves that often project out in places giving it an informal feel.
A full-length veranda often flows from a French Colonial front door. "Sometimes, this area is called as porch or gallery," according to an article by Architectures Style. "Every room has access to this gallery and a beaded soffit covers these sidewalks."
What is Cape Cod style?
The Cape Cod style house is a Colonial-era home that was popularized in post-war America. The design comes from the Massachusetts peninsula called Cape Cod, which has no major rivers or natural lakes nearby.
Cape Cod style houses were constructed on low ground to keep homes above seasonal floodwaters that would come with rainstorms every year.
Wooden frame and clapboard siding, high brick foundations, steep rooflines with chimneys on the end normally characterize these colonial houses. It's also common to find such modern additions as dormer windows.
The Colonial front door on a Cape Cod is symmetrically designed in the center of the house with sidelights on each side. Transoms are not typical on a Cape Cod home.
What is Georgian Colonial style?
Georgian colonial homes are distinguishable by their rows of symmetrical windows on either side of centered door, with a hip roof that sometimes features dormers.
Georgian Colonial style homes are characterized by three elements: symmetry, an emphasis on rectangular forms and classical ornamentation – a preference for stylized animal figures.
Georgian Colonials were typically built of brick with white trim around a Colonial front door and windows to create contrast. The use of wood was usually limited in favor of plaster walls that could be painted over without presenting too much maintenance burden.
Doorways in the Georgian style (1710–1780, locally to ca. 1830) are typically bold and imposing, with a single or double raised-panel door flanked by substantial pilasters (engaged columns), topped by either a (horizontal) entablature or a pediment.
The other important characteristics of Georgian colonial houses include a central hall leading into two rooms on either side as well as fanlight doorways and transoms above each window that would admit natural light but exclude heat from the sun during summer months.
Planters!
Interested in planters to display around your Colonial front door?
Check out our article on 30 Colonial pots, urns, and planters!
Conclusion
There are many ways to decorate your colonial front door, but the most important thing is that you're comfortable with what you choose. So take some time and think about which style of decoration will work best for how you use your home's exterior space.
Given your interest in a Colonial front door, you might also enjoy these articles: